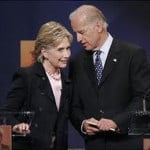 Two probably unrelated political thoughts.
First, this Elizabeth Warren nonsense. The Czar understands that Massachusetts voters don't seem to care that she may or may not have Cherokee ancestry: they seem to be zeroing in on whether she can do the damn job. Good for Massachusetts. Of course, the real question is whether Harvard should drop her like a hot rock for lying on her paperwork. One may argue that Warren could simply have been mistaken about her ancestry—things like this do happen from time to time—but there does seem to be no evidence that she was mistaken at all. She seems to have made it all up, and continued to fabricate this nonsense until, seemingly, she began to believe it herself. Point: this is Harvard's problem about academic honesty. And it is a doozy, with serious consequences either way.
Second, this Joe Biden nonsense. Call the Czar an optimist at your own risk, but lately the mainstream media seems hell-bent on exposing Biden for the dimwitted tool he really is. Yes, from the Left. The Czar can only conclude that the Left wants Obama to dump Biden off the ticket and go to Clinton for the obvious reasons:
Clinton is a stalwart Progressive, and Biden just says whatever nonsense whips through his head. In short, the media see Clinton as the more serious politician. Biden is a car wreck.
Clinton is the only Obama administration member with anything like a successful track record, even in the last three years. Obama? Squat. Biden? Even less. Yeah, they see her as ammunition against the GOP.
A little buyers' remorse from them. Yeah, maybe Clinton would have been the more successful President than the thin-skinned Narcissus of Petulance. But rather than confess this regret, the media merely hope to encourage a change they like better.
The media must be recognizing that historical trends in polling seem to be moving like clockwork to a decisive Romney victory, and dammit, Biden is just too good at helping the GOP when they most need it.
The Czar believes, as do many of us on the Right, that Obama is not going to admit a mistake of this magnitude, and is not going to replace Biden no matter how painful the result. Given the large number of people sharing this view, why does speculation continue about a Clinton-for-Biden switch? The Czar concludes: it actually comes from the Left.

Божію Поспѣшествующею Милостію Мы, Дима Грозный Императоръ и Самодержецъ Всероссiйскiй, цѣсарь Московскiй. The Czar was born in the steppes of Russia in 1267, and was cheated out of total control of all Russia upon the death of Boris Mikhailovich, who replaced Alexander Yaroslav Nevsky in 1263. However, in 1283, our Czar was passed over due to a clerical error and the rule of all Russia went to his second cousin Daniil (Даниил Александрович), whom Czar still resents. As a half-hearted apology, the Czar was awarded control over Muscovy, inconveniently located 5,000 miles away just outside Chicago. He now spends his time seething about this and writing about other stuff that bothers him.