How Things Work – Capitalism Edition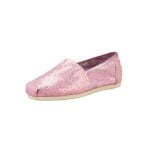 Mrs. Dr. J. and the Lil Resident, especially, love shoes. One of the brands popular with the Lil Resident, and a number of the young ladies at the Jedi Academy, the other independent schools in New Atlantis, and New Atlantis Ivory Tower University are Toms. Not only do Toms come in a number of styles and colors, but they are also reasonably priced. Consequently, the Lil Resident, and a number of her friends have multiple pairs.
Why this matters is that Blake Mycoskie, the founder of the Toms company was inspired to start his business because he was traveling through Argentina and was moved that there were many shoeless children. Shoes are important, not only to protect the feet from injury, but also from many soil-borne parasites that cause significant morbidity and mortality. Furthermore, in some countries, children may not attend school without the proper uniform, which includes shoes.
So, Blake started a business. He created a shoe that people wanted to buy, and buy in droves. Indeed, the Lil Resident has about 6 pairs, and Mrs. Dr. J. has about 4 pairs. Lil Resident's baby-sitter and a number of her sorority sisters have multiple pairs. And he has developed a manufacturing process that allows him to create a fashionable, durable shoe inexpensively, and he is able to sell them at a price point that allows him to give away one pair of shoes for every pair he sells, and Dr. J. is sure he isn't hurting too badly himself, and there's nothing wrong with that!


As of 2010, Toms have given away over a million pairs of shoes. Now, they are also in the eyeglass business.
Toms are just another example of how powerful the engine of capitalism truly is. A guy can make a product that people want, and can charge a price that allows him to not only make some money, but also to do some good.
This can't be done with a top-down, state run economy.
When was the last time Cuba made shoes for poor kids in North Korea?
Oh, wait, Never.