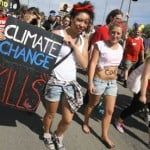 One finds that arguing with an environmentalist is empowering for them within 5 minutes, and disastrous for them within 10 minutes. In other words, the longer you engage them, the worse they do.
What it comes down to is that your average environmentalist simply wants mankind to reject all technology and go back to some subsistence farming utopia that, of course, never existed. Like Rousseau's noble savage, we will never advance as a society until we give up society. Or something.
As proof of this, consider their arguments about energy.
Oil. Bad. Kills fish, pollutes the air, slicks the waterways.
Coal. Awful! Produces CO2 and is going to burn us alive if rising oceans don't drown us first..
Nuclear. Are you kidding? Chernobyl, Three Mile Island, meltdowns, Godzilla, all of it.
Fusion. Science fiction. Plus one good earthquake and France blows up.
Solar. Not useful. Requires millions of square feet of collectors, which kills birds, absorbs heat, raises temperatures.
Geothermal. Disgusting. Releases poison gases, and can destroy the land if the ground shifts.
Wind Power. Nope. Also kills birds, plus we now know that windmills force warm air down and raise global temperatures.
Tidal. Horrible. Kills fish, strangles dolphins.
Hydroelectric. Ghastly. Have you seen what damming a river does to the land? It chokes half of it while drowning the other half.
Biofuels. Nice, but requires massive agricultural monopolization, and this is unsustainable.
Okay, so what method of energy production provides the best solution?
They haven't got an answer, and no matter what alien technology you promote, there will be consequences that recommend against it. And there have to be consequences: thermodynamics ensures you don't get something for nothing. Even zero point energy, which is all science fiction, results in entropy.
No, the real goal is not to prevent some minor or major catastrophic loss of control—the goal is to put you back in a cave, freezing to death without fire (produces CO and smoke). Confront an environmentalist with that, and they won't be able to refute it. In short, energy isn't the problem with the environment: humans are the problem.
Now, supposing you were to promote this idea: envision a form of energy that costs little to maintain, is initially paid for by large corporations but is amortized by its consumers for only pennies each, can be strictly controlled and monitored for environmental compliance, can operate well within the framework of existing regulations, employs thousands, results in massive amounts of continuing electrical output, produces the least amount of readily manageable waste, and emits pure water vapor as an exhaust—which actually increases albedo and helps cool the environment. Would you go for it?
And when the environmentalist agrees, smile and say "Nuclear, baby."

Божію Поспѣшествующею Милостію Мы, Дима Грозный Императоръ и Самодержецъ Всероссiйскiй, цѣсарь Московскiй. The Czar was born in the steppes of Russia in 1267, and was cheated out of total control of all Russia upon the death of Boris Mikhailovich, who replaced Alexander Yaroslav Nevsky in 1263. However, in 1283, our Czar was passed over due to a clerical error and the rule of all Russia went to his second cousin Daniil (Даниил Александрович), whom Czar still resents. As a half-hearted apology, the Czar was awarded control over Muscovy, inconveniently located 5,000 miles away just outside Chicago. He now spends his time seething about this and writing about other stuff that bothers him.