Dr. J.'s Comic Book Gay-dar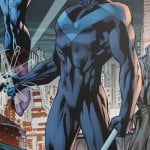 Dr. J. used to work in a comic book store as a youth, so this story is up his alley.
Dr. J. always found sexual themes to be extraneous to a good comic book story. The Dark Knight Returns and Watchmen, which were more grown up comics back in the 80s would have been just fine were they PG-13 rather than R, so to speak. When it came to romance, the tame 1950s approach approved by the Comics Code Authority was just fine with him. The so-called marriage equality crowd would argue that anytime a man and a woman have any sort of public relationship, it is making a statement, therefore it is no different to want balance and show same-sex couples in public.
That being said, it comes as no surprise that Northstar (who came out of the closet 20 years ago) is finally getting married. It isn't like the X-Men/Mutants storyline hasn't been a civil rights metaphor since the 1960s or anything.
Whatever.
Given that DC and Marvel always try to outdo each other, it also comes to no surprise that DiDio, and the gang at DC are going to out one of their 'major' characters.
Parenthetical: In Dr. J.'s opinion isn't running DC very well as they've had to do multiple Ret-connings during his tenure as opposed to the first 50 years which culminated in a single Crisis on Infinite Earths. Indeed, Gormogon friend Jonathan Last takes DC to task over at the Weekly Standard, and Dr. J. will not try to recapitulate his argument here, as he does it so well. Just go read it when you are done reading this.
The big question for Dr. J. is who is coming out of the closet, lair, Batcave, or Fortress of Solitude?
Unless they're looking to do another re-boot next year, they have to be pretty thoughtful about this.
Seriously, it has to work, otherwise you are going to piss off the readers, both gay and straight.
The DC Universe is pretty hierarchical with regard to its heroes. This is the hierarchy as Dr. J. sees it. He's left out many heroes but you get the point:
The A-List – The Holy Trinity
Superman
Batman
Wonder Woman
The B-List
Aquaman
Green Lantern (Hal Jordan)
Flash (Barry Allen)
Nightwing/Robin (Dick Grayson)
Green Arrow
Black Canary
Martian Manhunter
Hawk-man
Hawk-girl
The C-List
Kid Flash – Wally West
Flash – Jay Garrick
Speedy – Roy Harper
Green Lantern – Guy Gardner
Green Lantern – John Stewart
Green Lantern – Kyle Raynor
Plastic Man
So who is it going to be?
If Dr. J. were picking, it would have to be at least a B-lister, or it is a cop-out. There has to be, however, plausibility. They are rebooting history, but it has to feel right.
DC wouldn't want to offend the target audience, so the hero has to be a character without a problematic history. Plastic Man, the reformed criminal, and Speedy the former heroin addict aren't going to fly. It would portray the homosexual hero as less than ideal. Someone might cry foul.
Dr. J. would also avoid the A-List. While one could make a case for Batman, the whole faithful ward thing would become a little creepier than it already is. And before you say !!!Eleventy!!!!!, Dr. J. isn't saying that gay folk can't adopt. He is just saying the who Batman/Robin gay lover thing has been done to death. Wonder Woman is an Amazon. Again, that's too easy, and the scuttlebutt is they're going for a guy anyway. Gay Superman? Forget it. People had a problem with him walking the Earth like Cain in Kung Fu last year.
On the B-List, Aquaman, the Flash and Green Arrow aren't good choices because they're married and their wives are major characters in the DC Universe. It would come across as doing it to do it, and not thinking it through. You really start screwing up continuity if one of them were come out of the closet. Martian Manhunter is a shapeshifter and asexual to begin with, so he's no good. Hawk-man and hawk-girl are minor players on the B-List, really they're C-List, anyway.
That brings us to Nightwing, the original Robin, Dick Grayson.
Nightwing is perhaps the most highly regarded character by his peers within the DC Universe. He's basically 'Nice Batman.' He builds bridges and alliances. He's the mortar and the glue when the crap hits the fan. He knows everyone and has a relationship with everyone. He is a likable character to his peers. He is a good person without any appreciable baggage. He's basically the Kevin Bacon of the DC Universe.
In addition his (hetero)sexuality has never really played a role in who he is, or in truly major plot lines over the last 75 years. Sure you can talk about his relationships with Batgirl and Starfire, but they never stood the test of time as the iconic relationships like Clark/Lois, Aquaman/Mera, Barry/Iris, Oliver/Dina, the whole weird Bruce/Selina thing, or even Hal Jordan/Carol Ferris. So, if he was rebooted as gay, it really wouldn't be transformative from a canon standpoint.
So Dr. J. predicts DC will out Nightwing.
Why?
He fits the narrative best. He's B-List going on A-List. He doesn't bring personal negatives to the table. He doesn't have pre-existing romantic entanglements of any significance. Everyone likes him, and everyone will still like him after the big reveal.
The truth is, the reaction the audience will have, both gay and straight will be the same as the one Aunt Harriet would have, "It's about time he's admitted it to himself…we knew all along."