The Circle of Economic Life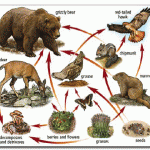 "You and the Naboo form a symbiont circle. What happens to one of you will affect the other. You must understand this." – Obi-Wan Kenobi, Star Wars I: The Phantom Menace
On Monday, Dr. J. was riding shotgun with Pa Wilder as they were both chaperones for the Jedi Academy's Pi'th grade trip to Mammoth Cave in Kentucky. As an aside, Dr. J. highly recommends visiting Mammoth Cave if you are in that neck of the woods. It is a pretty spectacular site to see, and the park rangers are excellent guides.
If you recall Dr. J.'s previous discussion regarding Pa. Pa is a small businessman. He sells and 'hangs' iron and piping for construction, big and small. In addition, his business also sells gasses such as propane and oxygen for a range of uses big and small. As a parenthetical, when he isn't at work, he is working on the family farm. Hay and cattle are their biggest products.
Pa learned a lot about his business before going to college as his old-man was similarly ran a business that did a lot of work with welding and metals. Indeed, Almonzo chose to ride with us rather than his classmates and Pa made the drive an education for Almonzo, pointing out various agricultural teachable moments. Dr. J. learned quite a bit on the way as well, such as the difference between a Holstein cow and a Black Angus.
Now what Pa and Dr. J. talked about was the economy, and the drag that regulation has on business. Pa is selling his current home and small farm and planning on building a new house on the family farm, as his father recently passed away. He has to build a 70′ span across some wetland on the property, and while he could readily 'hang the metal' so to speak on the span, and have a contractor buddy finish the cement-work, it turns out he needs an engineer to sign off on the plans. We discussed how health insurance costs will affect his business.
The biggest point, however, that he made to Dr. J. is that many of his customers, and those of his father before him, are some of the wealthiest folk in town. They are the ones having parties that require tents and propane heaters. They are the jewelers who need oxygen and propane for their jewelry torches. They are the ones who require cabins to be welded on to their barges for their shipping businesses. These are the people renovating homes and building office buildings that require iron to be 'hung.'
The fact that he used real names and real people that we both know, at least peripherally, goes to show that the economy is a fragile eco-web, so to speak, where real people and real businesses are interconnected.
The economy is not some abstract theoretical concept that can be drawn on a blackboard and fixed on a blackboard, and manipulated to do what you want it to do, just because you can do it on a blackboard. It is tangible and real. The nice thing about a place like New Atlantis is that you can see and feel the connections because you know the players involved and can see the connectivity between the small businessman, be he an iron worker, a restauranteur or a shipping magnate.
The 99%ers, Occupiers and Progressives out of some combination of ignorance (in the case of the former) and hubris (in the case of the latter) are poised to bring this symbiont circle to a crashing halt if we let it. That is why this this election, and all elections, including the primaries, truly matter. The people who make America work need to participate in the governmental process in order to being to undo what has been done before it is too late.