Barack Sabbath: Or, Wedging and Hedging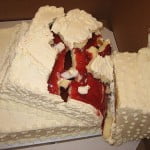 As you heard, Joltin' Joe Biden announced that he's now totally in favor of same sex marriage, and cited a fifteen-year-old television show he evidently never watched as the reason why. The President, though, is still evolving on the subject. No, evolving is the word he used. The Czar didn't make that up.
So every smart person's favorite journalist, Jake Tapper, decided to clear up exactly what that meant, but unfortunately all he got was Jay Carney, who must surely have the worst job in politics: Barack Obama's press secretary. The Czar really believes that Mr. Carney probably hates to get up in the morning, knowing full well what bizarre lunacy is sitting on his desk for him to announce and make plausible.
Anyway, Mr. Tapper asked Mr. Carney exactly what the President thinks about Same Sex Marriage. Mr. Carney replied that, to his knowledge, the President has not changed his position an iota. And what would that be today? Well, Mr. Carney explained, it is what is was. Est quo erat, is exactly what Caesar said to Casca that provoked that first shank. Anyhow, Mr. Tapper asked what it was, so that we could now understand what it is. Mr. Carney replied that the President's opinion is still evolving.
Well, let us eliminate the magic here. A long while back, the Czar explained to all of you why no matter what Democratic voters think, liberals will never legalize drugs, because they hate them. What liberal wants you dependent on something other than the government? And when you have Progressives dictating what drinks kids should legally have in their school lunch bags, they hardly are going to sit idly by while you stock up on booger sugar.
Something similar occurs with same sex marriage. Liberal democrats have been talking about this for years, but they had the House, Senate, and Presidency in 2009. They could have done it then, or even in 2010—but refused to discuss the topic.
Barack Obama is that consummate liberal progressive: he has stated in the past, and on multiple occasions, that he believes marriage exists only between a man and woman. But he's evolving, and he will continue evolving right through the election when millions of awestruck gay and lesbian voters will cast their vote for him…so that in the weeks after the election, as he did in 2009, he will re-affirm that he has no intention of legalizing same sex marriage on the federal level.
Barack Obama opposes same sex marriage unless there is an election going on. Then he evolves. And not only is this a way to hedge his true thoughts so that he gets the votes in his favor, but it creates the classic wedge issue: every time the subject comes up, Obama is evolving completely unlike those non-evolving Republicans who continue to oppose it. He can, in fact, say whatever he wants you to hear, because he knows the GOP will never call his bluff on the topic. And not very deep down, Biden is no different.
The GLBT community ought to recognize that the President will never evolve. Mitt Romney, who unsuccessfully attempted to introduce an openly gay spokesperson to his campaign, and Dick Cheney, who exuberantly accepts gays, are of course evil bastards because the Democrats say so.
But not the same Democrats who voted to legalize same sex marriage in many states. No, the Czar means the liberal progressive Democrats who will—mark our words—never, ever, ever allow same sex marriage. It is what it was.

Божію Поспѣшествующею Милостію Мы, Дима Грозный Императоръ и Самодержецъ Всероссiйскiй, цѣсарь Московскiй. The Czar was born in the steppes of Russia in 1267, and was cheated out of total control of all Russia upon the death of Boris Mikhailovich, who replaced Alexander Yaroslav Nevsky in 1263. However, in 1283, our Czar was passed over due to a clerical error and the rule of all Russia went to his second cousin Daniil (Даниил Александрович), whom Czar still resents. As a half-hearted apology, the Czar was awarded control over Muscovy, inconveniently located 5,000 miles away just outside Chicago. He now spends his time seething about this and writing about other stuff that bothers him.