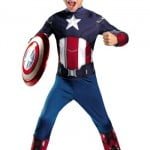 Well, the Czar concedes that he was hoping either Dr. J. or the Mandarin would write a review for The Avengers first. Clearly, they are waiting for us to do it.
First, some generalizations:
Well done. Go see it. Very good ending, a copious amount of time spent on each character, and only a couple of scenes that did not quite work. The critics's apparent of average of three stars seems justified—but considering how Hollywood should have screwed up this movie, that should be tremendous relief to the fans.
Also, about that secret ending: there is way more here than meets the eye. After the furor dies down, the Czar will share why the teaser for the sequel is not just a cool idea, it is a brilliant marketing move on Marvel's part. John V. Last probably knows what the Czar is talking about.
Second, some thoughts on the audiences:
Lines were long, and you were very orderly and patient. Thank you for not humiliating yourselves by showing up in costumes and acting out your ideas of what the movie would be.
Here, however, is a special message to those folks who show up at 2:18 for a 2:20 start, and stand at the foot of the theater stairs gawking up at all the jammed seats, wondering what all those people are doing at a movie that has been eagerly awaited since Bush was president, and how they are going to fit their party of three in anything other than the very first row of the theater: either get used to it or buy a damn watch.
By some estimates, one out of seven Americans saw the movie this weekend.
Third, some specifics:
Is this movie okay for me to bring my pet hamster? Yes, provided your hamster is not startled by loud noises, and is okay sitting for three hours in your pocket.
Does the Hulk rap in this movie? Yes, the Hulk performs a 1980s style rap, but it is totally within context of the scene and does not grate as much as you predict.
Is it true that Ernest Shackleton performs his usual cameo? Yes, but look carefully: the explorer is in the coffee shop, waving to the busboy.
Please explain why Charlie Sheen is in the movie for almost the entire picture, walking up and staring into each audience member's face. Um. You may have seen the 3D version, in which case, that probably was just Charlie Sheen walking around the theater. See the movie again, and you probably will notice he isn't in the movie.

Божію Поспѣшествующею Милостію Мы, Дима Грозный Императоръ и Самодержецъ Всероссiйскiй, цѣсарь Московскiй. The Czar was born in the steppes of Russia in 1267, and was cheated out of total control of all Russia upon the death of Boris Mikhailovich, who replaced Alexander Yaroslav Nevsky in 1263. However, in 1283, our Czar was passed over due to a clerical error and the rule of all Russia went to his second cousin Daniil (Даниил Александрович), whom Czar still resents. As a half-hearted apology, the Czar was awarded control over Muscovy, inconveniently located 5,000 miles away just outside Chicago. He now spends his time seething about this and writing about other stuff that bothers him.