Yes, it's the "Badger State," Mitt…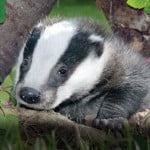 …but that doesn't mean you're supposed to call Castle G three times a day.
The Doc reminds me that tomorrow is the Wisconsin primary, and as Castle Gormogon's current location in this dimension is in Wisconsin*, that means we've been suffering through the hellstorm of robocalls unleashed by the Romney campaign. We've heard from Mitt, from Ann, from actors playing "Tim" and "Sarah" who were just about to vote for Rick Santorum when they learned that he was Richard Trumka's pool boy and, in Congress, the zombie servant of exactly those Big Labor monsters who are trying to unseat our heroic Governor Walker—so they just had to pick up the phone and call us! (And then they had to note that the call was paid for by Romney for President, Incorporated, at (608) 535-9307.)
So what insight from atop the Plateau of Leng? Not much. The polls seem to indicate a single-digit margin for Romney, although the blizzard of robocalls may mean that the Romney Campaign is less confident based on better, internal polls.
Wisconsin Republicans, in general, haven't shown any enthusiasm for the primary (which may indicate their good sense, if you agree with Confucius's analysis of the primary as a clown car, with Brittle Weasel and Bitter Whiner fighting it out while Grandiose Flake and Occasionally Sane look on).
We haven't seen a single yard sign or bumpersticker touting any of the remaining candidates (with the exception of a couple Ron Paul perennials, but I don't think they take them down). So low turnout and a predictable Romney victory may be in the cards.
Still, come by the Castle and watch the returns. We'll be in the TV room. Do not, repeat, do not confuse this with 'Puter's "Rumpus Room." You really don't wanna know what's in there.
*From the Visitors' Guide to Castle Gormogon:
The Castle travels in time and space, but can be found on the Plateau of Leng, when it appears just outside of the scenic hamlet of Fond-du-Lac, Wisconsin.
Take Route 45 North to Kinker Road, and turn right (heading East). This will become Westmoreland Drive (Exit 5). Head North to Castle Road and follow the signs.
If you reach WI- 114/10, you have gone too far North. You'll soon know what that means.
Guests of the Castle may park in the rear for free, behind the Hippodrome. One of our Tcho-Tchos will be happy to park your vehicle for you, or at the very least, tear your seats apart with his teeth. If you need help with your bags, feel free to ask, and they will hurl them off the plateau.


Don't ask impertinent questions like that jackass Adept Lu.