When you've lost SNL, you've lost Middle America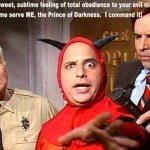 Dr. J. first heard a heavily bleeped version of this on the radio, this AM, and yes he had the AM station on this AM, and not the FM station this AM. He will have to switch the AM to FM in the PM.
Nevertheless, SNL Vet John Lovitz, who used to be on when the show was it was transitioning from funny to unfunny now has a podcast during which he was interviewing director Kevin Smith, who also hasn't done anything worthwhile since the end of Silent Bob's sermon in Chasing Amy. Dr. J. has blocked out of his memory everything that happened in the last 15 minutes of that flick.
Anyway, John discusses tax policy with Kevin Smith during his podcast (WARNING, STRONG LANGUAGE):
"This whole thing with Obama saying the rich don't pay their taxes is f*****g b*****t, and I voted for the guy and I'm a Democrat. What a f*****g a*****e," Lovitz said. "First they say … 'You can do anything you want. Go for it.' So then you go for it, and then you make it, and everyone's like, 'F*** you,'"
Lovitz said. "[Obama] is the perfect example. He's amazing. He had nothing … and the guy ends up being at Harvard. He's the president of the United States. And now he's like, 'F*** me and everybody who made it like me.'"
Yeah, that's it…that's the ticket…