The Villainous Visage of the Progressive Movement…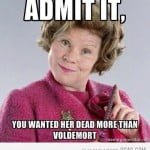 The Harry Potter series was largely an allegory of the early to mid-20th century European conflicts personified in World War I and II. In crude terms the Voldemort and the Death Eaters were Germany and Hogwarts and the Order of the Phoenix were England and the allied forces.
That being said, there was no more deliciously evil character than Dolores Umbridge. She, more than anybody else in the saga represented the evils of statism and the Progressive movement. She was the enemy within that distracted the forces of good from the coming storm.
In her universe, the state was the solution, could do no wrong and was always right, even in the face of facts demonstrating the opposite.
Her evil was most palpable because she believed the ends justified the means, and given that in her view her ends were right and just, her actions were justifiable.
Dr. J. hopes that she can be a reminder that vigilance and civic participation are the panacea to institutionalized evil.