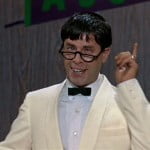 The Detroit Free Press, which is vastly better since it fired its journalists and let crackpots on the Internet write its stories, has a peice today about Senator Chuck Grassley (R-IA) tweeting that the President might be, well, stupid:
Constituents askd why i am not outraged at PresO attack on supreme court independence. Bcause Am ppl r not stupid as this x prof of con law
If you need help reading Twitterese, this roughly translates to:
Dear Americans,

Like many of you, I have received various and sundry letters expressing incredulity over my seeming tolerance over the President's recent and pointed acrimonies toward the Supreme Court of the United States and her independece of thought and action regarding American jurisprudence. And whilst a seeming self-contradiction, I must confess an non sequitur inability, or perhaps more accurately, a joy over my reassurance that the American people are not as stupid as this former professor of Constitutional law.
Not surprisingly, this sort of commentary is upsetting to many folks.
And rightly so: Sen. Grassley should know by now that Barack Obama was never a professor of Constitutional law; he was a guest lecturer, and was never even close to earning full professorship status.
Sheesh.

Божію Поспѣшествующею Милостію Мы, Дима Грозный Императоръ и Самодержецъ Всероссiйскiй, цѣсарь Московскiй. The Czar was born in the steppes of Russia in 1267, and was cheated out of total control of all Russia upon the death of Boris Mikhailovich, who replaced Alexander Yaroslav Nevsky in 1263. However, in 1283, our Czar was passed over due to a clerical error and the rule of all Russia went to his second cousin Daniil (Даниил Александрович), whom Czar still resents. As a half-hearted apology, the Czar was awarded control over Muscovy, inconveniently located 5,000 miles away just outside Chicago. He now spends his time seething about this and writing about other stuff that bothers him.