The SCOTUS and Fiscal Responsibility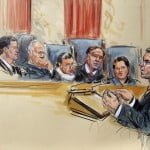 It is very likely that the Supreme Court voted regarding Obamacare on Friday. Now, the public won't know the results of that vote until the opinions are written and released in June. Indeed Friday's vote, from what Dr. J. understands, can change as the opinions are drafted and circulated.
Waiting 2-3 months to announce the verdict, in this case, is a rather damaging approach. You see, while Obamacare is a very bad law that should be repealed, hospitals, especially, academic medical centers, who do an overwhelming amount of indigent care, will have their budgets blown wide open next year if the law is repealed. The reason for this is that medicare/medicaid cuts are being used to pay for indigent care that wasn't being paid for previously. It is also why academic and charity hospitals are excited about Obamacare. If Obamacare is repealed and these cuts aren't transiently reversed as we move to a less unsustainable strategy, like the Ryan Budget, hospital operating costs will far exceed compensation, which will jeopardize the mission of said hospitals.
Now mind you, this is no reason, not to repeal the unconstitutional law. Dr. J. makes this point because the typical academic hospital's fiscal year ends in June. It will be far easier to turn the ship away from the iceberg, and for congress to act to fix the gaping coverage hole created by repeal if they know sooner, rather than later that repeal will or won't happen. In this case, the SCOTUS sitting on the verdict for 2-3 months creates its own set of problems.