Sabotage – A Fifth Column in the Obama Campaign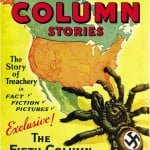 Dr. J. has always said that two points make a straight line, but 3 or more points lets you get a better picture of what is really going on. The Obama Campaign has had a rough week or two since Mitt Romney has been declared the Presumptive Nominee™ for the Republican Party, as their mudslinging non-sequitirs seemed to miss their target.
Now what have we learned about Romney courtesy of Obama Campaign surrogates:
Ann Romney is a stay-at-home-mom who should STFU because SAHM's are ignorant of things such as economic matters. Furthermore, she's not a real SAHM because she is rich. Real SAHM's have to cook hamburger helper to make ends meet.
Mitt Romney hates dogs because he strapped his dog carrier to the roof (with a windshield in place) when there was no room in his car.
Mitt Romney's great-grandfather was a polygamist. Gasp, CULT! MORMON! ELEVENTY!
Mitt Romney was born with a silver spoon in his mouth.
Now the right hit back on each of these issues, countering with the glaringly obvious:
The FLOTUS is, ostensibly a SAHM and a rich one as well. (Does the FLOTUS get a paycheck? No. So like many rich SAHM's, she does volunteer work.) In a manner of speaking, the FLOTUS is the ultimate stay-at-home mom. More importantly, most SAHM's are such by choice and many working moms wish they had the financial ability, and if so, the courage and patience to do so as well. Besides, each time someone attacks Mrs. Romney, a mental contrast is made in the listener between her and the FLOTUS. Does the Obama campaign really want that?
President Obama ate dog in his youth. It is documented in his autobiography. Dr. J.'s never had dog, but he has enjoyed snake during a trip to Australia a few years ago.
President Obama's father was a polygamist. Not that there's anything wrong with that.
We know Mitt Romney was born with a silver spoon, only petty class-warfare Marxists care about such things. (Stretch, yawn, stretch). Last time Dr. J. checked President Obama didn't grow up poor (Punahou much?), though unlike Mitt, he wasn't wearing a monocle, top hat and cigar as a youth. Such things just make him sound like a small, empty, insecure man.
For the Obama Campaign to go from Hope and Change to not only name calling, but name calling regarding things that your candidate has the worst poker hand for is either incompetence, or a conspiracy.
Perhaps some of the Obama Campaign's finest have even lost faith in our Commander in Chief.