Rubbing Salt in the Wound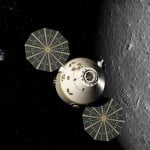 If the retirement of the shuttle fleet, and with it American manned spaceflight for the foreseeable future isn't one giant leap (backwards) for mankind, our friends at the Udvar-Hazy center are rubbing salt in the wound.
They've decided to display the Orion test vehicle, the crew vehicle for the now defunct Constellation program, next to the retired Shuttle Discovery.
President Bush announced the Constellation program as the next step in the American manned space program in 2004.
The program was canceled by President Obama in 2010.