Not Because They Are Easy But Because They Are Hard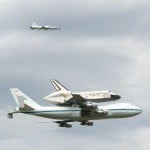 Yesterday was another historic day in the demise of the American space program. The space shuttle Discovery was transported atop a modified 747 and flown from the Kennedy Space Center in Florida to the Washington, D.C. airspace finally landing at Dulles International Airport. It will be a feature display in the Smithsonian Udvar-Hazy Air & Space museum next door to the airport.
President Obama, as a candidate, promsied to support NASA and the future of the American space program. Since taking office, this administration has slashed NASA's budget, cut future space programs (Constellation) and allowed the agency to drift into the climate change morass. The last bit has raised the ire of the agency's astronauts (the agency responded saying that they are committed to open scientific discourse, but I find their openness lacking when their climate studies fail to include solar aspects). While there is likely some benefit to the privatization of certain items of the space program, we as a nation are now left with minimal space capability and a reliance on nations like Russia, China and the EU for anything manned. In 2008, forecasts had America relying on Russian spacecraft for manned space transport from 2010 to 2015. Now, that timetable has been extended.
Many skeptics will decry the space program as a boondoggle. That it was a waste of taxpayer money and didn't benefit the country. This is blatantly incorrect. Dating back to the early 1970s, studies have demonstrated that the rate of return of investment in the space program has been in the 30 to 40% range. A 1989 Chapman Research report found that from 259 non-space applications of NASA technology has resulted in $21.6 billion in sales and benefits, over 350,000 jobs (created or saved) and $355 million in federal corprate income taxes. The 259 applications represent an estimated 1% of the 25-30,000 spin offs from NASA technology. NASA's budget benefits the economies of all 50 states and the District of Columbia.
In an era where growing the economy and creating job opportunities for higher-end jobs is critical, why is the administration ignoring an area of demonstrated success in favor of "stimulus" spending? The private-public partnership developed since 1958 clearly benefited this nation and the world with economic growth, new technology and inspriation for the youths of tomorrow. Many of us remember growing up and knowing someone, maybe even ourselves, who wanted to be an astronaut when they grew up. Do you hear that anymore? Just consider for a moment some of the wide ranging technologies spun off from NASA research, funding, and other related NASA programs:
The light-emitting diode (LED)
Ventricular assist device
Artifical limbs
Aircraft de-icing systems
Chemical detection
Firefighting equipment improvements
Enriched baby food
Water purification
Solar energy
Improvements to the radial tire
and much more
Consider then what we could do in the next 10 years, especially considering the rapid technology growth we've seen in the past 10 years.
For forty-nine months between 1968 and 1972, two dozen Americans had the great good fortune to briefly visit the Moon. Half of us became the first emissaries from Earth to tread its dusty surface. We who did so were privileged to represent the hopes and dreams of all humanity. For mankind it was a giant leap for a species that evolved from the Stone Age to create sophisticated rockets and spacecraft that made a Moon landing possible. For one crowning moment, we were creatures of the cosmic ocean, an epoch that a thousand years hence may be seen as the signature of our century.
– Edwin "Buzz" Aldrin Jr.
We must somehow keep the dreams of space exploration alive, for in the long run they will prove to be of far more importance to the human race than the attainment of material benefits. Like Darwin, we have set sail upon an ocean: the cosmic sea of the Universe. There can be no turning back. To do so could well prove to be a guarantee of extinction. When a nation, or a race or a planet turns its back on the future, to concentrate on the present, it cannot see what lies ahead. It can neither plan nor prepare for the future, and thus discards the vital opportunity for determining its evolutionary heritage and perhaps its survival.
– James C. Fletcher
Mars is the next frontier, what the Wild West was, what America was 500 years ago. It's time to strike out anew….Mars is where the action is for the next thousand years….The characteristic of human nature, and perhaps our simian branch of the family, is curiosity and exploration. When we stop doing that, we won't be humans anymore. I've seen far more in my lifetime than I ever dreamed. Many of our problems on Earth can only be solved by space technology….The next step is in space. It's inevitable.
– Arthur C. Clarke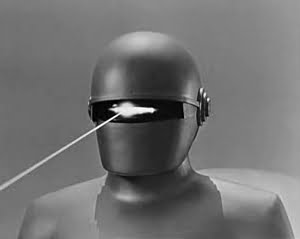 GorT is an eight-foot-tall robot from the 51ˢᵗ Century who routinely time-travels to steal expensive technology from the future and return it to the past for retroinvention. The profits from this pay all the Gormogons' bills, including subsidizing this website. Some of the products he has introduced from the future include oven mitts, the Guinness widget, Oxy-Clean, and Dr. Pepper. Due to his immense cybernetic brain, GorT is able to produce a post in 0.023 seconds and research it in even less time. Only 'Puter spends less time on research. GorT speaks entirely in zeros and ones, but occasionally throws in a ڭ to annoy the Volgi. He is a massive proponent of science, technology, and energy development, and enjoys nothing more than taking the Czar's more interesting scientific theories, going into the past, publishing them as his own, and then returning to take credit for them. He is the only Gormogon who is capable of doing math. Possessed of incredible strength, he understands the awesome responsibility that follows and only uses it to hurt people.