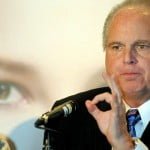 ZOMG!!!!!!!!!!!!El@VEENTY!!!!!!!!!!!!!!!!
The Rush Limbaugh Show is leaving its current nest on 1210AM WPHT in Philadelphia for WKDN 106.9 FM, a formerly Christian Station that is entering the Talk Radio format.
He will be replaced with local talker Michael Smerconish, a Republican who has drifted leftward in his tenure on the air, which has included a 2008 endorsement of then candidate Obama for president, and some guest hosting stints for Chris Matthews on MS-NBC
The howling harridans of the left are saying that this is poetic justice for Rush's comments regarding Sandra Fluke's testimony, but the truth is this is nothing more than business as usual in the rather unusual Philadelphia radio market.
Philadelphia, you see, is a very provincial city. When a Philly team is eliminated from the playoffs, more TV's are switched off than anywhere else in the country when their home teams are eliminated. Philadelphians, generally speaking, like their news and talk radio local.
Philly, doesn't fit that mold, however. Philly has three AM news and/or talk-radio powerhouses. There has typically been an FM talk station but what station on the FM band has taken up the talk mantle has changed over the years.
This is why a station hasn't picked up Sean Hannity and Glenn Beck in the last year.
This is why 610AM/94FM WIP Sports Talk Radio is a giant.
This is why Howard Stern made it his mission to conquer Philly, supplanting juggernaut John DiBella in the 1990 before going national. In the words of Frank Sinatra, "If [he] can make it there, [he] can make it anywhere!" and Dr. J. doesn't mean New York, New Yoooooooorrrkkkkk!
This is why 1210 WPHT thinks it is a completely viable move to replace Rush.
This is why an upstart thinks it can get a large piece of the radio pie by switching formats to welcome Rush, and perhaps Sean and Glenn in the near future.
The change is probably a relief to local Rush fans because he isn't being preempted by baseball during day games.
The other interesting thing to note is that in many, if not almost all, markets, the FM band is considered more desirable real estate than the AM band. You may recall Dr. J. talking about the fact that he likes the the AM radio guy in the AM and the FM radio guy in the PM in New Atlantis because the AM PM guy sucks, and consequently, Dr. J. sometimes listens to the FM AM guy on in the morning because he's pretty good. He actually sent an email to the AM AM guy to this affect and he told Dr. J. that the AM band is tough radio real estate, so he appreciates that Dr. J. tunes in in the morning.
So Dr. J. predicts that while the left will
make hay
over
the issue
, calling it a victory in the war on women, the biggest winners will be the gang over at WKDN FM. You see, despite Philly's provinciality, the bulk of the Rush/Hannity/Beck fans will migrate to the FM band without hesitation, especially as Hannity and Beck return to the airwaves. WKDN's ratings will far exceed anything they've enjoyed in Dr. J.'s lifetime. And any rating attrition that Rush will see will be chump change in the grand scheme of things.
Smerconish's ratings will probably go up, given the more desirable time slot, but they will probably be less than what Rush enjoyed, in the 12-3 slot.
So while the media attempts to make this into something it's not, your Gormogons's are here to remind you that like politics, radio is local…