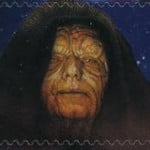 This mailbag has quite a rash of pictures associated with it.
Consequently, Dr. J. had to insert some filler to get them below his mailbag icon.
Myrmidon Wrangler DT Writes:
Dr. the J,
I can handle the OWS crowd. I can even handle the MoveOn, CodePink, and other assorted lefties. However, when I came across this protestor, I had to draw the line.
I mean, come on – freedom *of* vegetables doesn't mean freedom *from* vegetables, right?
IHS, DT, Wrangler of Myrmidons and Enjoyer of Broccolli
It is spelled broccoli, DT.
And yes, I like Broccoli too…
Operative MC2 writes in:
Dr. J – bringing the Dark Side to the galaxy, one squirrel at a time.

Dr. J. isn't that hairy, but he is that good with the Force Lightning.
Last but not least, Borepatch writes in, not to mock The Czar, but on a more sensitive note:
Dr. J,
It's been a while since the excitement at the beginning of the month. Best wishes that no news is good news with Lil' Med Student.
The Lil Med Student is doing great, and is playing baseball. No more head injuries for now. Thanks for thinking of hime.