Let slip the dogs of war…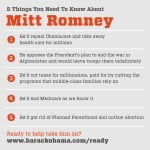 Gentle Readers, with Rick Santorum's departure from the GOP race, Republicans are beginning to coalesce around Mitt Romney.
And President Obama's campaign has set its targets on him as well:
Can we say 'set its targets'? Well we did anyway so there.
As you can see, the President's campaign is rolling out the boogieman to scare the sheeple.
Let's see…
1) Dr. J. prays that President Romney and a Republican controlled House and Senate repeals Obamacare. The truth is that health care won't be taken away. We have Reagan to thank for that. Health care and health insurance have become unnecessarily more expensive under Obama and all Obama care does for 'millions' is make sure the government pays for the indigent at the cost of offsetting Medicare/medicaid cuts. Health care access will be cut for millions more after Obamacare collapses the system.
2) Mitt Romney's plan for Afghanistan is not to pull out and let the Taliban return unchecked to rebuild their terrorist state and wage their real #waronwomen, but rather to develop a sensible policy with his generals before taking any rash action.
3) Dr. J. hopes that the tax code is reformed in a revenue neutral/payor friendly manner. Dr. J. also hopes that spending is cut in a manner that allows us to address the deficit. With these in place the recovery will be sufficiently robust that middle-class families will be embarrassed to rely on government programs. They're middle class for Pete's sake!
4) Medicare needs to be ended as we know it because it is headed for collapse. It is such a freaking joke that team Obama used the words they did. It's as laughable as calling someone racist these days.
5) Dr. J. prays for a day where Planned Parenthood shutters its doors, elective abortions are outlawed, and all children are welcomed lovingly into this world.
Now that we've taken down the Obama Campaign's first salvo, Dr. J.'s buddy Jamie Jeffords at the Eye of Polyphemus writes this regarding unifying behind Romney for the 2012 campaign:
The most important thing in November is getting rid of Barack Obama before he succeeds socializing the United states economically and Balkanizing the United States socially. Then we can worry about holding Romney's feet to the fire. There are a couple points in our favor. One, all Romney wants to do is be president. He does not come in with an agenda, just a huge ego. If he truly has no principles, conservatives can yank him in the direction we want him to go if we finally develop the nerve to do so. We got Sanuel alito appointed to the Supreme Court instead of Harriett Miers, so forcing a Republican president to be a conservative can be done. Two, Romney is far more even tempered than John McCain and less stubborn than Bob Dole. I imagine conservatives will have an easier time convincing him to go to the right than we would have the last two losing repuvlican candidates. Whatever the case, this is what we now have to work with.
Dig in for trench warfare from now until November. I, for one, do not intended to let this election slip way like 2008.
Jamie isn't the first person to make this point about Romney. Jonah Goldberg put forth the fact that ideologically malleable Mitt will work with conservatives to keep those promises that Obama is trying to scare us with. Hopefully he picks a conservative VP to whisper in his ear, like Paul Ryan (no hints there Mitt, I know you read us).
So, the campaign is on! Start coalescing folk!
Oh yeah, Jamie's babe o' the day is Liz Hurley.