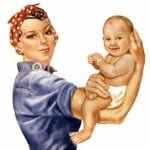 Your Mandarin was not surprised to hear Hillary Rosen's comments about Ann Romney never working a day in her life since she was a stay at home mom.
Hillary Rosen's criticism of Ann Romney highlights two themes of the Progressive movement and the Obama campaign – class envy/warfare and the role of the state in the home.
You see to the Progressive, the only authentic woman is one that thinks only of her base and banal needs and forgoes the raising of a family. The fact that Ann Romney not only had the audacity of having five children is bad enough; that she also made the grave sin of marrying a husband that could provide for her and allow her to stay home and raise their children is beyond the pale to these Progressives.
Obviously the raising of children is not the responsibility of the mother, but of the all-knowing and benevolent government.
And before everyone jumps up and down screaming about the hypocrisy of the Progressives/Democrats about the "War on Women", just remember that in their eyes Ann Romney is not a woman in much the same way that an Alan West or Clarence Thomas are not black.

The Mandarin, whose real name is 吏恆, joined the order in 1309, and introduced the Gormogons into England during the 18th Century.
The Mandarin enjoys spending time with his pet manticore, Βάρἰκος, or Barry (who can be found in the Bestiary). When not in the Castle…well, frankly, nobody is quite sure where he goes.
The Mandarin popularized the fine art of "gut booting," by which he delivers a powerful kick to the stomach of anyone that annoys him. Although nearly universal today, the act of gut booting or threatening someone or something with a gut boot is solely due to him.