In which Dr. J. considers learning Japanese…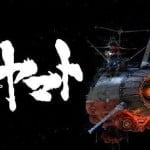 Nerdbastards.com picked this up from Toplessrobot.com, and now it is being forwarded to you.
Remember Star Blazers?
Dr. J. does!
It was appointment television back in the 80s.
Indeed, he and his childhood chums would stop playing baseball, riding bikes, catching frogs in the crick, and whatever else we did in the summer time, to come inside from 2:30-3:00 to watch the latest episode. After another 30 minute debriefing of what we witnessed, we would finally get back to whatever we were previously doing before the hour interruption.
They released a movie in Japan in 2010, but a dubbed version has yet to surface in the U.S. The Czar talked about that while it was in development.
Now, the Japanese are premiering a remake/reboot of the animated series called Space Battleship Yamato 2199. Again, no word on the English dub.
Bandai released 10 minutes for your viewing pleasure!
Attention Disney, you could make a ton on this if you dub it and broadcast it on Disney XD. Same for you Ted, with your Cartoon Network. Hasbro, can you hear me? Appointment television on The Hub.