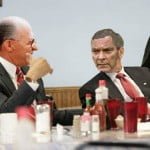 As many of you know, most of the Gormogons got together this past Wednesday to catch up, speak off the record, and basically plot your total destruction. And what fun we had! Hundreds of famous celebrities, some living, some dead, and some undecided, came to Chicago to celebrate Gormogonicon 2012. "Three days of thrombosis!" was this year's theme, perhaps a bit odd because it was only 24 hours and no thrombosis was involved…deep vein or otherwise. There were some legitimate grumblings on Twitter that none of our minions were invited, but that is something we may reconsider for next year.
So you do not feel left out, here is a bit about what went on all day.
Here is Dr. J having breakfast with Menachem Begin and Alexander Haig. Yes, that's our Doc, having breakfast with Begin and Haig. Begin and Haig! This stuff practically writes itself.
Lunch time was a genuine treat, as the Inscrutable Mandarin coaches the Czar on making some traditional foods, including his favorite, endocrine chicken. Sleestak peeks out in the back, just to make sure we aren't cooking any of his family members. Don't laugh: with enough Cholula's, they are surprisingly passable.
This brings us right to dinner. Here is our 13th Imam, our One True Huckleberry (ایمام سیزدهم), sharing dinner with the Grand Mogul and our own Œcumenical Volgi. Most of you folks will not recognize the Grand Mogul, who is one of the more unknown Gormogons—he prefers not to write for the website, but pops in once in a while for special events. Like the hilarious poker game that followed. Hold 'Em will have a whole new meaning for a few weeks, at least until he loses that limp.
Meanwhile, back at the Castle, GorT amused himself by popping in and out of other people's time machines and basically scaring the crap out of them.
Not much going on with 'Puter, who gave yet another series of boring anecdotes on union reform on late night television. He now comes with an FCC warning about younger or more sensitive viewers.

Божію Поспѣшествующею Милостію Мы, Дима Грозный Императоръ и Самодержецъ Всероссiйскiй, цѣсарь Московскiй. The Czar was born in the steppes of Russia in 1267, and was cheated out of total control of all Russia upon the death of Boris Mikhailovich, who replaced Alexander Yaroslav Nevsky in 1263. However, in 1283, our Czar was passed over due to a clerical error and the rule of all Russia went to his second cousin Daniil (Даниил Александрович), whom Czar still resents. As a half-hearted apology, the Czar was awarded control over Muscovy, inconveniently located 5,000 miles away just outside Chicago. He now spends his time seething about this and writing about other stuff that bothers him.