What the Hell is the Meat Planet?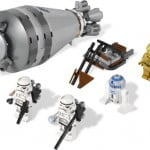 Dr. J. and the Lil Med Students were building a new Lego set on Monday. It was the escape pod that C3PO and R2D2 used to flee the Tantive IV at the beginning of Star Wars (Episode IV).
So when we were building it, Lil Med Student had an epiphany. He asked,"Is this the ship that R2D2 and C3PO took to the Meat Planet?"
Dr. J. was all,"Meat Planet, what the Hell is a Meat Planet?"
"Daddy, the Meat Planet is the planet that Anakin and Luke grew up on! It's the Meat Planet, it's made of meat!"
As you can see below, the Moon may be made of green cheese, but Tatooine is clearly made of meat.