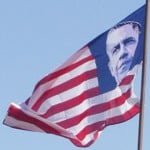 Your Mandarin was mortified when he discovered this story about a flag flying above the Lake County Florida Democratic Party headquarters.
The flag has a picture of President Obama emblazoned on it where the 50 stars should be – or if you are President Obama, where the 57 stars should be.
When a group of Korean veterans saw this they went ballistic and protested outside of the facility. Eventually, after some consideration, party chairwoman Nancy Hurlbert took the flag down.
Not really sure as to why anyone who fought to defend this country and the flag that represents it would be upset, Chairwoman Hurlbert plans to contact an attorney about the situation and didn't give a clear indication whether she would fly it again or not.
When pressed further, she confessed that she really doesn't think this is so much about the flag as the fact that certain elements (read angry old white men) cannot accept Barack Obama as president.
Well comrade Hurlbert, it isn't that people cannot accept Barack Obama as president, it is the fact that despite your delusions, President Obama is not the United States of America. Our veterans and politicians take an oath to protect and defend the Constitution of the United States, they don't pledge their loyalty to the "Leader" as if this were Germany in the 1930's.

The Mandarin, whose real name is 吏恆, joined the order in 1309, and introduced the Gormogons into England during the 18th Century.
The Mandarin enjoys spending time with his pet manticore, Βάρἰκος, or Barry (who can be found in the Bestiary). When not in the Castle…well, frankly, nobody is quite sure where he goes.
The Mandarin popularized the fine art of "gut booting," by which he delivers a powerful kick to the stomach of anyone that annoys him. Although nearly universal today, the act of gut booting or threatening someone or something with a gut boot is solely due to him.