Putting the Mandate in HHS Mandate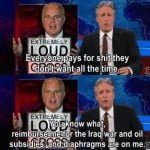 The left are grabbing at straws. The most recent meme making the rounds with Dr. J.'s lefty Facebook friends (will they ever stop being a never ending source of material?) is this lil Jon Stewart LOL:

One big controversy with regard to the tax code, historically is that conscientious objectors, such as Quakers struggle with paying Federal Income Tax knowing that it funds the Department of Defense. Most of the folks screaming !!!!2#!!!EL3VEnety!!!!!!11!!!!! over the Iraq war and oil companies enjoying the same tax laws that other corporations enjoy (aka Oil Subsidies™) are not true conscientious objectors. By their standards, Dr. J. is a conscientious objector to about 70% of Federal spending.
The history of war tax resistors is fascinating, and a fair treatise is found here. This group, with a few notable exceptions, has not been historically prosecuted for their resistance. Their legal challenges, when they have been heard, have been shot down again and again.
Now Dr. J. has a tremendous amount of sympathy and compassion for his Quaker friends who are pacifists and conscientious objectors, as a tenet of their religion. While the Catholic Church makes it very clear what is appropriate and inappropriate with regard to issues of life, the Quaker Peace Testimony is not as clear with regard to implementation. One of the challenges Quakerism faces with regard to arguing that they should not pay a 'war tax' is that there is no clear cut descriptor of what is right and what is wrong with how their faith is to be applied in practice. If push came to shove, he would be willing to allow the ~ 100K Quakers in North America to deduct 20% of their tax bill if they were bonafide Quakers, attending Meeting for Worship at least 75% of First Days (Sundays) during the year (affirmed by the Clerk of their Monthly Meeting upon pain of losing their tax exempt status for committing fraud), and all religious organizations would be left alone by the government. Dr. J. knows one gentleman who chose prison during WWII because he flat out refused to serve in any capacity in that most just of wars. Another gentleman served as a medic but refused to carry a firearm, a third served stateside as part of the Civil Defense squad.
Contrast this with the Catholic Church explicitly stating that birth control, sterilization and abortion are verboten, and parishioners refusing comply are in various states of sin. Catholics know the rules and choose to follow them or not.
Given this, there are a number of flaws with Mr. Stewart's yuck yuck line:
1) Paying taxes is the law. Dr. J.'s tax dollars are tragically going towards Planned Parenthood, probably abortions, if not now, in the future (thanks to the repeal of the Hyde Amendment), subsidies of all kinds, overly generous welfare state entitlements (Dr. J. hates that term), 99 weeks of unemployment, the Bridge to Nowhere™, U.N. dues and foreign aid to some real nasty folk. He really can't do much about it either. Grudgingly he accepts it because it is the price of living in the greatest place on Earth, and he does the best he can rendering unto Caesar what is Caesar's and unto God, what is God's.
2) The issue isn't tax dollars. The issue is that the government is now forcing private religious organizations and persons to purchase insurance policies (a product from a different private individual/company) for their employees that pay for products that neither require insurance coverage (from a out of pocket expense standpoint), nor jives with their the absolute pillars of their faith.
Mr. Stewart is performing some intellectual slight of hand for laughs on his 'news made easy for Progressives" comedy half hour, but what he tosses out for laughs evolves into talking points within days or weeks.
Be forewarned!