우편 মেইল פּאָסט пошта poçt ταχυδρομείο 郵件 پست փոստ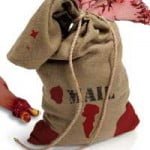 First up, a great line from Operative ME on Fast and Furious.
I was very pleased to see your original post concerning Fast & Furious because it jibed very closely with my own thoughts. It's very hard to talk to family and friends outside of about the scandal because a) it hasn't really gained exposure on the national media and therefore there is no grounding in the basics of the scandal b) consequently you come across as a conspiracist and they look at you like next you are going to place Obama as offloading cocaine from planes in Arkansas or place him at the scene of Vincent Foster's death.
Most true! But fodder for thought: is there anyone at this point who thinks Eric Holder is doing a good job…or is even competent at it? Most Attornies General come under attack for this, that, or the other, but even the Left is shocked and dismayed by the putziness of Holder. The President, allegedly, doesn't even communicate much with him. Like Geithner, Eric Holder will probably get dumped if the President ekes out a win in November; replacing either of them now will be a legitimate admission of failure that the President's disgusting poll numbers could not absorb.
A great letter from Dr. (KN)J, our Royal Adding Machine, on a subject not about math.
O Most Dread and Awful One,

If I might offer a modest correction to your description of Africa: it is not a horrible place, but rather a quite wonderful place, with predominantly wonderful people, suffering under the oppression of (a diverse collection of) truly horrible political systems (some masquerading as religious systems), which have in turn devastated other areas of the culture(s) there.

Here and there, pockets of freedom break out with concomitant localized economic benefit, though it appears to be pretty rare that these pockets spread as readily as they should, principally because of the absence of governments that perform the essential governmental role of protecting property rights. At the moment, I'm pretty encouraged about Botswana (as an example, should current trends continue, Botswana will pass up the US on the Heritage Foundation's Index of Economic Freedom in 3 years), and cautiously optimistic about Rwanda. In fairness, though, I was once similarly hopeful about Kenya and Zambia, and those don't seem to be doing so well at the moment.

My main point is that your comment seemed to be too broad a brush – it is certainly true that most of Africa has massively severe problems, but they are really many different problems. This is why, as you say, Africa is where "good ideas are butchered and mutilated": from the outside, it all looks the same, and it looks like a given idea should work, but typically there is some local twist on corruption that prevents it from flourishing as it "should" (or has, elsewhere).

Personally, I tend to agree with Kenyan economist James Shikwati that aid from the West has done far more harm than good, and has stunted the development of African solutions to African problems. He proposes extensive free trade as a replacement for aid. The many African colleagues with whom I have worked over the years are extremely bright, capable people – I can't imagine that they aren't typical. If they are, then there's more than adequate local mental firepower to bring to bear on Africa's problems.

—Dr. (KN)J,
Royal Mathematician to the Gormogons
And there you have it. Don't be terribly surprised if Volgi, who knows a great deal about the subject, chimes with with either support, corrections, or a combination thereof.

Божію Поспѣшествующею Милостію Мы, Дима Грозный Императоръ и Самодержецъ Всероссiйскiй, цѣсарь Московскiй. The Czar was born in the steppes of Russia in 1267, and was cheated out of total control of all Russia upon the death of Boris Mikhailovich, who replaced Alexander Yaroslav Nevsky in 1263. However, in 1283, our Czar was passed over due to a clerical error and the rule of all Russia went to his second cousin Daniil (Даниил Александрович), whom Czar still resents. As a half-hearted apology, the Czar was awarded control over Muscovy, inconveniently located 5,000 miles away just outside Chicago. He now spends his time seething about this and writing about other stuff that bothers him.