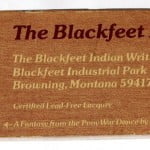 Dr. J. felt inspired to add to The Czar's ode to the pencil this morning. Dr. J. doesn't use pencils much anymore given that most of his documentation is in the electronic medical record, or require the permanence of ink.
Dr. J.'s favorite pencil from his youth is the Blackfeet Indian Pencil. Created and sold by the Blackfeet tribe from the '70's-'90s, this pencil was made of cedar, and had a natural wood appearance. They were the pencils purchased in bulk by his school and they were great stuff.
Thanks for the trip down memory lane, The Czar!
P.S. We appreciate Doug at Adirondack Base Camp letting us use his pictures of the pencils above. He sent us a very nice note about it, too, and hope he visits from time to time. Check out those links: there is a lot more interesting stuff out there about the Blackfeet Indian pencils and their unusual history.