One-Eye Willie Goes Fishing for some Fluke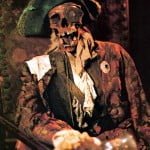 No, not the great pirate from The Goonies, but rather, Dr. J.'s buddy Jamie Jeffords, aka the Eye of Polyphemus took on an issue that Dr. J. has been ruminating on all weekend, and that is, "How do you solve a problem like Sandra (Fluke)?"
Dr. J. didn't have time to pen his musings, and stumbled upon Jamie's outstanding polemic that crystalizes the issues that Dr. J. was bandying about in his head.
Here is a taste of Jamie summing up Dr. J.s feelings on the issue:
What a classless and bratty thing to do. Classless in the sense you should not kiss and tell period, much less to a congressional committee where the entire country is going to hear every word of it. Bratty in the sense of entitlement. Fluke genuinely believes she should be able to have as much sex as she wants beyond what she can afford to protect herself from getting pregnant, so it is up to someone else to pay for her to do so. The mindset you have to have for such a rationale is spoiled beyond anything I can imagine.
Go read the rest here.
The only question that Dr. J. has for Mrs. Fluke is, "What are your monthly caffeine related expenditures?" Dr. J. suspects that like most professional school students, she has at least a $3 a day tall latte habit which can more than cover her reported $83 a month contraception costs.