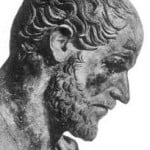 There's something about Obamacare that BG just doesn't understand. Okay, here he is in his own words:
There's something about Obamacare that I don't understand. Okay, there are about ten million things about it that I don't understand, but this one struck me just today.

I read that Aristotle's Law of Identity states that A is A. That is:

…(A)n object can not have two identities. A tree cannot be a telephone, and a dog cannot be a cat. Each entity exists as something specific, its identity is particular, and it cannot exist as something else. An entity can have more than one characteristic, but any characteristic it has is a part of its identity. A car can be both blue and red, but not at the same time or not in the same respect. Whatever portion is blue cannot be red at the same time, in the same way. Half the car can be red, and the other half blue. But the whole car can't be both red and blue. These two traits, blue and red, each have single, particular identities.

The concept of identity is important because it makes explicit that reality has a definite nature. Since reality has an identity, it is knowable. Since it exists in a particular way, it has no contradictions.

And then I read that the Supreme Court of the United States was told today that something can be both a tax and a not-tax, and that it can be both a penalty and a not-penalty, and that that is why Obamacare is constitutional.

Here is what I don't understand, and I'm hoping that you can resolve my puzzlement: Why didn't all nine justices fall out of their chairs laughing when the administration's solicitor general made that argument? Is there some protocol that requires any argument to be treated with serious and grave respect, no matter how ridiculous?

Or are the justices truly undecided about this? In which case it appears to me that the justices are considering the possibility that, Aristotle to the contrary, reality does NOT have a definite nature, and that it CAN be self-contradictory. And that, consequently, laws can be literally without any objective meaning.
The answer is fairly simple on its face, BG: some of the justices believe it is a tax—and shall be judged by that—while others believe it is a penalty—and, yes, will judge it accordingly.
The more complex answer is which of those is right, because as you correctly reference it the implication cannot be both a tax and a fine. Justice Alito attacked the dual nature of the legislation when he said today:
Today you are arguing that the penalty is not a tax. Tomorrow you are going to be back and you will be arguing that the penalty is a tax.
Justices Breyer, Sotomayor, and Roberts also had issues with the weasely nature of the two terms.
For readers struggling to wonder why they should care at all, it breaks down like this. As you know, the legislation requires (mandates) that all individual Americans shall have or be required to purchase health insurance. If anyone fails to obey this individual mandate, Congress has authorized the power to penalize the offender by collecting a fine.
Of course, the government does not have the authority to compel an individual to purchase anything; that's against the law. So the penalty is of course unenforceable, as many Republicans pointed out. And if Obamacare is unenforceable, why should anyone obey it?
Well, the Democrats replied, the Congress does have the power to authorize the collection of money.
But, the Republicans countered, Congress can only do that if it's a tax. And if Obamacare is a tax, it not only contradicts the core premise of the legislation (it shall not be paid through taxes), but also violates the law because taxes cannot be used to control or regulate activity.
The Democrats responded that this is incorrect; the correct term is not tax, but a penalty. The Republicans have since countered that if indeed that violation of the individual mandate results in a penalty, then the constitutionality of that law can be challenged in the Supreme Court, since Congress cannot require anyone to purchase anything as a condition of citizenship (since there is no effective way for the average citizen to opt out of it).
No, the Democrats replied, the Anti-Injunction Act of 1867 prohibits anyone from challenging the effects of legislation before it is enacted, since no one has suffered anything yet. You can only challenge it after enactment, if you can prove harm.
Ahem, spoke the Republicans, the Anti-Injunction Act of 1867 applies only to taxes—you cannot claim you were harmed by a tax that was never collected. That will protect Obamacare only if you admit it is a tax.
So you see, readers, the problem is that for Obamacare to survive the Supreme Court, it must be a tax. But if it is a tax, then it is an improperly collected tax because it acts as a regulation. If it is a regulation, then non-compliance requires a penalty…but Congress lacks the authority to assess fines unless a person has a legal way to opt out of participation. So the penalty would need to be a tax.
Do you, readers, see why BG resorts to Aristotle? In order for Obamacare to survive the Supreme Court, it must be a non-tax and non-penalty both at the same time.
Why, you would think the framers of the Constitution sort of saw this thing coming when they set it all up that way. And of course they did: the Stamp Act, for example, set their understanding for what ultimately would be the Achilles Heel of Obamacare: you cannot force the private citizen to engage in business if they don't want to.
For a clearer example, the State of Illinois requires drivers to have car insurance. Legal? Yes: because you can opt out by not driving. Done. But Obamacare? You cannot opt out. You must spend money at the government's direction, whether you want to or not…and legally, the only way the government can do that is through a tax.
The Czar predicts that the Obama administration will be forced to admit that Obamacare is a tax, since that provides the least difficult to explain out of the two. "Okay, it is a tax; but we aren't trying to regulate behavior so much as we're trying to find a way to pay for it all." That makes it more palatable to the Constiution, but will be a serious body blow to President Obama in an election year.
Once again, we find our President unable to understand that actions have consequences. Obamacare lost the House in 2010; the Supreme Court challenge should have come in 2011, so that we could have perhaps forgotten it by 2012. As it stands now, the Republicans need to make as much noise about this as possible, and so far the general public has been aware of it.
Bear in mind, the Czar thinks that the constitutionality of Obamacare cannot sanely be established. Even if, or rather when, the Department of Justice argues that Obamacare is really a tax, than this opens up a whole can of worms about exactly what constitutes the Congress's power to tax people for specific purchases rather than provide for the General Welfare.
Right now, Obamacare is teetering on whether it is a tax or a penalty; there are several dozen other problems with it all queued up depending on how just the first question gets answered.
Is Aristotle right? Well, the Czar never met him, but Volgi did. And Volgi informs us that Aristotle never actually said "A ἐστί A", but stated instead "τὸ μὲν οὖν διὰ τί αὐτό ἐστιν αὐτό, οὐδέν ἐστι ζητεῖν," which is not at all the same thing, as you will doubtless agree.

Божію Поспѣшествующею Милостію Мы, Дима Грозный Императоръ и Самодержецъ Всероссiйскiй, цѣсарь Московскiй. The Czar was born in the steppes of Russia in 1267, and was cheated out of total control of all Russia upon the death of Boris Mikhailovich, who replaced Alexander Yaroslav Nevsky in 1263. However, in 1283, our Czar was passed over due to a clerical error and the rule of all Russia went to his second cousin Daniil (Даниил Александрович), whom Czar still resents. As a half-hearted apology, the Czar was awarded control over Muscovy, inconveniently located 5,000 miles away just outside Chicago. He now spends his time seething about this and writing about other stuff that bothers him.