The Obama Campaign Dissembles (again)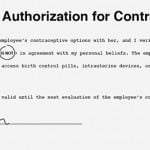 In a feeble attempt at humor, President Obama's re-election campaign website's tumblr page posted the following:
This sort of thing chaff's Dr. J.'s ass.
The issue with the HHS Mandate is NOT that Religious organizations are prohibiting employees from using contraception, having tubal ligations or vasectomies, or even terminating pregnancies.
They SIMPLY DO NOT WANT TO PAY FOR IT!
And why should they? Really! Why? Please write in and explain it to Dr. J! He loves letters.
But make no mistake, if you say, "It's the law!" You get a big red X because the law will be found unconstitutional.
Religious organizations pay their employees this thing called MONEY. Money can be exchanged for things called goods and services.
It can pay for necessities such as food, shelter (including utilities) and transportation. It can be spent on other essentials such as clothing and medicine. It can be saved. It can be spent on luxuries. Expenses should probably be prioritized in the order Dr. J. just mentioned otherwise you will be up shit's creek.
In addition to paying you money, your employer spends their money (and takes a portion out of your paycheck pre-tax) on benefits such as a 401K/403B, and health insurance.
In other words your employer is paying for the bulk of your health insurance premium.
If your employer's fundamental beliefs prohibits them from paying for contraception, abortifacents or sterilization, there is no one, including your employer, stopping you from using your money to pay for it yourself. This is what you have been doing, and will be doing until 2013 when the rule must be complied with.
If you don't like that, vote with your feet and leave that employer for another.
By the way, you might get lucky and your employer might choose to shutter its doors, leaving you unemployed, simply because it cherishes principles that clearly you and the politicians you support do not.
It really is that simple.