Not only is there more real unemployment…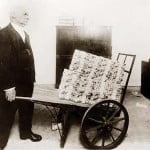 …there is also more real inflation.
Dr. J.'s felt it in his wallet, but he's thought himself paranoid, more than anything else. But his grocery bills, price at the pump (21 gallons of regular for his Star Destroyer, and 12 gallons of premium for Mrs. Dr. J.'s X-Wing adds up), and tuition costs for the kiddos have been eating a bigger bite of the monthly budget each and every year. Tuition jumped 6% for next year and that's the lowest increase in the city.
But the truth is now revealed by CBS of all sources.
They report:
Forget the modest 3.1 percent rise in the Consumer Price Index, the government's widely used measure of inflation. Everyday prices are up some 8 percent over the past year, according to the American Institute for Economic Research.
Insert obnoxious but intellectually honest ellipsis here…
Over the past year, the [American Institute's Everyday Price Index, ed.] EPI is up just over 8 percent, according to the economics group. The biggest factor: Motor fuel and transportation costs are up 21.06 percent from year-ago levels. The cost of food, prescription drugs, and tobacco also have increased faster than the government's inflation measure, rising 3.56 percent, 4.21 percent, and 3.4 percent, respectively.
Dr. J.'s old boss said to him, "We need to develop the benchmarks, because he who controls the benchmarks wins the game." He was referring to the arbitrary healthcare quality benchmarks, but it applies equally to the differences between standard unemployment and U-6 unemployment, and also the differences between the CPI and the EPI.
Furthermore, all of the quantitative easing, which is reflected in oil and gold prices hasn't helped the situation. It made things worse, just in a slow, one degree per hour sort of way.
Unemployment as measured by Labor and Statistics, and the CPI don't accurately reflect the economic pain many are suffering because they don't account as readily for folks 'opting out' of the workforce as retiring Baby Boomers or recipients of 99 months of unemployement, and what folks are actually buying. We all know we're hurting, but the numbers being fed to us have not reflected reality in 2012 as well as they did in 1980.
Think about all of this when you go to the polls this spring and again in November.