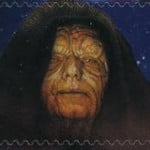 Gentle Readers, the one and only Borepatch writes in. Do you read him every day? We do. He writes regarding the Lil Med Student's concussion.
It reminds me of the time that #2 Son had to go to the Emergency Room via Ambulance in Barcelona. The Mrs. had to pay cash, but it was only $50. I hope that years from now you look back on this incident as wistfully as we do on ours.
Well time heals all wounds, and I am sure we will chuckle about this one day. What impressed Dr. J. was not just the outpouring of support here on teh interwebz, from the Jedi Academy. Even Publix called us to ask how the little guy was doing.
Thanks for your well wishes.
Blue Sun also writes in:
Dear Dr. J,
I saw your bumper sticker post which reminded me of another bumper sticker (referencing a rival franchise, admittedly) that I've seen on some of the blogs I frequent:
Sadly, I think that this is a much more realistic view of the current crop of candidates–at least, I'm not seeing any Captain Kirks.
In any case, keep on Gormogonin'
Ah yes, the Kobyashi Maru, the no win scenario. Dr. J. would love to have the candidates all take that test and see how they do.
President Obama probably would blame Bush, beam off the ship and go golfing. Michelle beaming off 4 hours before the scenario began…
Gingrich would probably bore the Klingons to death with a discussion of the history of the Federation/Klingon conflict, and then confuse them by proposing to work with them to create a Dyson Sphere around Rigel.
Thanks for writing in!
That leaves us with a letter from LTC Dan. Kinda like Lt. Dan but with more oak clusters. The Colonel writes:
Doc,
I am reminded by the Instapundit that today is Blogger Appreciation Day, and motivated to appreciate y'all by your post entitled "Obama Gets a Five Minute Major for Cross Checking."
I appreciate reading something (outside of lobbying material) that doesn't make me feel, as a retired Soldier and partially disabled veteran, as though I am suckling at the government teat.
Both of our children were born in Army hospitals, and my family saw Army doctors and dentists. In the early 90s, we moved to Germany at the behest of the Army. When we returned to the States, I was informed I must pay for dental insurance for my family and get a civilian dentist. That was followed shortly by Tricare.
From the little research I have done, it appears that maybe 6-7% of living Americans are either in the military or are veterans. With the Department of Defense absorbing half of the expected budget cuts in the near future, it is not surprising our (earned, not given) benefits are at risk. It's a far cry from my recruiter telling me how I'd be taken care of when I enlisted. And we are apparently not considered a potent voting bloc.
Okay, so I pay insurance premiums. And probably less than many folks who chose other career paths. But we are only 6-7% of the American population. Continue treating us like this, and even that percentage will shrink.
Enough whining…thanks for your support, Doc.
I appreciate all y'all.
LTC Dan
LTC Dan, thank you so much for your service to our country. Unlike Rep. Jim Moran who sees our servicemen and women as 'taking a check', Dr. J. thinks he speaks for all of the Gormogons when he says that those that voluntarily place themselves in harms way on our behalf deserve our respect and retirement benefits that go above and beyond those for other public servants because many have nuisance injuries that stick when for the rest of their lives, other have scars we can't necessarily see, and sometimes are those that are severely disabled.
Now while VA benefits cover the poor and those with service connected injuries, Tricare is great insurance for career military and their families. It makes it easier for them to start small businesses. Dr. J. knows of a group of electricians who are all vets. They bring the lower costs of their overhead to you the consumer.
No veteran should ever be made to feel that their benefits weren't earned. They were, and they were the least we could do for the greatest among us. Anyone who makes a vet feel otherwise is, as Puter would put it, an asshat.
Thanks for writing in and thank you again for your service to our country.