Mailbag: In Which All Hail Our Brilliance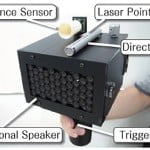 Operative MC etches this secret message into a single oatmeal flake and slipped it into the Czar's breakfast. It turned up the following morning.
A STFU gun!

Yeah, the "Japanese" invented it, wink wink nudge nudge, say no more. I love it when Gormo-tech goes commercial.
Indeed, Mandarin invented this thing back, as you can see from the design, in 1979 as a way to ensure complete silence from audience members when he went to see The Muppet Movie. You can tell it's his invention, even if we did not tell you, from how it works—it completely interrupts the speaker each time he tries to talk. Actually, this was intended to be funny more than effective, but we take what we get. Especially at Mandy's age, whatever the hell that is.
Operative JS carefully inks the world's first haiku in sonnet form:
Dear Czarnator,

I read your piece about Romney's narrow win. I think it's spot on- he's likely to get a narrow win over Obama. I think many conservatives and Republicans are like me- we're hesitant to have our candidate be a moderate because that has bit us on the arse before. It may work this time, though, because our political climate is so different from then.

Regardless, as a conservative I will be voting for whomever the Republican candidate is, just so that Obama is out of office. I am surprised, though, that Democrats wanted Romney over Santorum- do they really think Romney will be easier to defeat?

Also, mind commenting on the downswing of voters for Ron Paul? I think it was mostly young people boosting his numbers and they don't have the staying power of older voters. It's no surprise to me that Ron Paul is doing poorly.

God Bless,
Operative J S

ps- how does this site do in viewers vs other political blogs? Where do you all stand in regards to those other blogs?
Thank you ever so much for recognizing our intense political brilliance. The Czar sees three questions to be answered here.
Ein: Why would the Democrats want Romney over Santorum? In fact, the Democrats were voting for Santorum, because they want Santorum to knock Romney out of the picture, and believe mistakenly that the general public will be offended by the radical Catholic sharia of Rick Santorum…or something and run to Obama. The Democrats really have no good strategy here: Santorum and Romney each could pose a popular threat to Obama, given the president's perpetually sad popularity numbers. They cannot even take a chance supporting Gingrich; the fact is, they are stuck with a lame horse in the race, and have little confidence in beating the Republicans. Yes, you read that right—folks on the Left are just as dismayed with their prospects of winning as the Right is with their prospects. Hence, a close race; the outcome of which is certain to surprise no matter what happens.
Dwa: What's up with Ron Paul? Yes, many younger voters were attracted to him because, as we know, the youth has abandoned Obama due to his being just another crappy politician. Ron Paul is touting real change, and what our younger voters want is a real alternative. However, most of the youngsters the Czar knows are a heckuva lot smarter than people think, and cannot stay fooled for long. They understand now that a lot of Ron Paul's ideas are beyond the pale for impractical wackiness. They also understand that Ron Paul is another politician—he talks a good game, but his political record is clear that he is just as bad at earmarks, voting for liberal spending schemes, and screwing his constituents as any other politician. He just lies about it much more convincingly by staying on the attack. So all but his core co-conspirators are saying "the heck with this" and picking a mainstream candidate (apparently Santorum but it's always difficult to know for sure).
Trois: What is the popularity of this site? This is difficult to judge. If you count future readers (GorT has his fans) and those from alternative dimensions (Mandy is big in Tantkwoo, Moresteria), we generally maintain something like eighteen trillion readers in the course of a week.
Here on Earth, 2012, it is a little less than that to be sure, but we statistically have at least one reader reading our site every second of the day. The more important thing is who reads our site. As you know, we enjoy a cult following of some pretty big names—check out our Twitter followers for specifics—but have a bunch of big shot political pundits, a handful of celebrities, some notable politicians, historians, and so on who read us regularly. We even hear from liberals from time to time, who thank us for our less-than-rabid analysis as we trick them into thinking for themselves from time to time.
Of course, our most important reader is you, the person reading this right now. Because you're the person we like to hear from first. You're the reason we stay out of the right wing echo chamber!

Божію Поспѣшествующею Милостію Мы, Дима Грозный Императоръ и Самодержецъ Всероссiйскiй, цѣсарь Московскiй. The Czar was born in the steppes of Russia in 1267, and was cheated out of total control of all Russia upon the death of Boris Mikhailovich, who replaced Alexander Yaroslav Nevsky in 1263. However, in 1283, our Czar was passed over due to a clerical error and the rule of all Russia went to his second cousin Daniil (Даниил Александрович), whom Czar still resents. As a half-hearted apology, the Czar was awarded control over Muscovy, inconveniently located 5,000 miles away just outside Chicago. He now spends his time seething about this and writing about other stuff that bothers him.