The Gormogons Action Hour!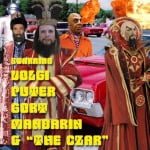 The always engaging Borepatch writes this on a bullet which he fired through one of our windows last night. And this morning, he showed up at the Castle asking for his bullet back. Times being what they are, etc.
Dread and Awful Czar,

Mrs. Borepatch enjoys her Cop Dramas on TV, and so was watching the recent Bones show (title: "The Knight On The Grid") where the Gormogons made their TV appearance. Great performances all around! And the reference to the "secret society" was extra awesome.

A question, though: it seems that this is either a stunning OPSEC failure, or is deep, deep nuance. In either case, you might consider "counseling" your PR team. Impaling stakes optional, of course, but as you well know that gets immediate attention.

Yours, etc.

– Borepatch
Thanks, chief!
A couple of thoughts on this.
First, we certainly pre-date the television series by a couple of centuries and a half. Indeed, as a more familiar pop culture/political snark group, we pre-date the television series as well. So they are bastards.
Second, in all these centuries of plotting conspiracies, and secretly societing, and pulling levers and setting up chess pieces, we have made only one major mistake, and that's when we decided to get a PR department. The first thing they did was put up a website for us on the Internet—previously, all our websites were done in pencil. Realizing our horrible mistake, that now the whole world could read what we are up to, we sacked them but kept the website. Turns out a website is a lot less expensive than a PR department.
We still have on twitter. Feel free to follow us, readers! Several hundred already do.
Third, in all fairness, we shold point out that the producers of Bones failed to consult us for our characters, and went with some weird mix of 'Puter and one of our random Tcho-Tchos that performs our odd jobs for us. And, maybe, a touch of the Czar's aggressiveness, who knows. Not us: the Czar has never seen a single episode of the series.
We were assured of course that we would have a prominent role to play in the entire series, and even had some publicity stills done up in advance of that.

Needless to say, we were totally disappointed by the lack of cars, explosions, dudes dangling from helicopters, and the inevitable GorTness of being. Television. First thing, they turn Mandarin into a woman (well, you can sort of see that coming), Volgi into some male model, hire a bunch of wit-prone writers, and then they combine all the Gormogons into a single dude who's a bad guy. Freaking Hollywood.
Well, it's just as well; we would have to digitally insert Dr. J into the season DVDs. Not that we couldn't do it. We did it to Leave it to Beaver as Lumpy's spooky neighbor.

Божію Поспѣшествующею Милостію Мы, Дима Грозный Императоръ и Самодержецъ Всероссiйскiй, цѣсарь Московскiй. The Czar was born in the steppes of Russia in 1267, and was cheated out of total control of all Russia upon the death of Boris Mikhailovich, who replaced Alexander Yaroslav Nevsky in 1263. However, in 1283, our Czar was passed over due to a clerical error and the rule of all Russia went to his second cousin Daniil (Даниил Александрович), whom Czar still resents. As a half-hearted apology, the Czar was awarded control over Muscovy, inconveniently located 5,000 miles away just outside Chicago. He now spends his time seething about this and writing about other stuff that bothers him.