Minion ScottO writes in with a tuple of questions spread across three Gormogons:
Gentlemen and overlords,

Your 3 posts inspired questions, so you get a 3-fer email.

First, GorTechie: I recognize the idea of Federal laws superseding State, but if "health insurance" (pre-paid medical care coverage) is not allowed to be sold as the same policy in multiple States, could not the case be made that Federal law has no standing in this case? Of course, this argument misses the point that the PPACA is unconstitutional, along with probably 90% of the Federal laws passed since 1913.
So I appreciate your confidence in me that you think I could answer a legal question. I'll defer a real answer to 'Puter who both is a lawyer and plays one on TV. First, a quick aside. Regulations should be lifted to allow insurance providers to sell plans across state lines. This creates a more competitive market – a good thing – something that will actually drive down health care insurance costs. It also provides the potential for better portability if an employee relocated. Now, onto your question. Yes, the PPACA is likely unconstitutional. The issue here being, in my amateur barrister status*, is the 10th Amendment to the Constitution that states, "The powers not delegated to the United States by the Constitution, nor prohibited by it to the States, are reserved to the States respectively, or to the people." This is an amendment that liberals tend to have an issue remembering and they usually try to twist it with the "life, liberty an the pursuit of happiness". Guess what? That's in the Declaration of Independence that, while an important document for this country, is not a foundational document setting governmental practices like the Constitution. Then they try to pin on "promote the general Welfare" from the Constitution, for which they get points for using the right document. However, the Supreme Court has upheld that the Preamble to the Constitution "has never been regarded as the source of any substantive power conferred on the Government of the United States or on any of its Departments". (Jacobson v. Massachusetts, 197 U.S. 11). In 1824, Chief Justice John Marshall described in obiter dictum a further limit on the General Welfare Clause in Gibbons v. Ogden: "Congress is authorized to lay and collect taxes, &c. to pay the debts and provide for the common defence and general welfare of the United States. … Congress is not empowered to tax for those purposes which are within the exclusive province of the States." (my emphasis added)
Nowhere in the Constitution is the power of requiring health care coverage delegated to the United States (meaning to the federal government – this is where the founders were geniuses – the federal government derives it's authority, responsibilities and limits from the Constitution – it doesn't just "have" these powers). So, health care coverage or insurance is a power reserved to the states or the people. What is missed by liberals is the beauty of this system. If a state, let's pick Massachusetts, passes a law requiring mandatory health care coverage by employers in that state, then people have the freedom and option to move to a different state and still enjoy the benefits of the federal laws but not the restrictions that they oppose. Of course, they could take appropriate political action and try to get the state to reverse the law too. Brilliant! This system goes to !@!!!#!Eleventy!@!@ So, maybe an answer (and not the answer to your question) is that it doesn't really matter if the federal law has standing or not because you really need to address its constitutionality first. Maybe a cop out, but it's the best I can do with no "JD" behind my name.
– GorT, 01100110 01110010 01100101 01100101 01100100 01101111 01101101 00101100 00100000 01110011 01110101 01100011 01101011 01100101 01110010 01110011 00100001
Next, Confucius: While you no doubt have given a literal translation of the phrase in question, I believe the sentiment could be better summed up as, «Приходите и принять их, присоски!», couldn't it?
Scottō,
Grammatical fine points aside, I'm not entirely sure he called them "suction cups." Might I suggest prostaki as an equivalent for SUCKAZ! But if I knew Leonidas—and I did meet him briefly once about 500 B.C. — he called them kakai kuōn, basically, "bitches." (An offensive person, like a yapping dog.) Filthy mouth that guy, but pretty ripped six-pack…
Scripsit 孔夫子
Confucius the Œcumenical Volgi
Last, but certainly not least, Good Doctor: I would imagine the Tcho-Tchos don't need a lot of culling, as the periodic skill-enhancing tournaments at Castle Gormogon result in sufficient attrition, n'est-çe pas?
Verily, you are correct!
While the skill-enhancing tournaments, and various and sundry other work hazards such as 'Puter dynamite fishing, Mandy testing Orbital Death Rays, The Czar raging, and my unleashing of force lightning can be lethal for the Tcho-Tcho's they still breed like rabbits. Besides, they see the cullings as our love for the whole herd.
Best,
Dr. J
Thanks for the questions – the 3-fer was fun.
* – true story, 'Puter mildly encouraged GorT to pursue a law degree after receiving my undergraduate CompSci degree. While I instead elected to pursue a MS in EE/Telecom, I did take a course titled "Telecommunications and the Law" and aced it.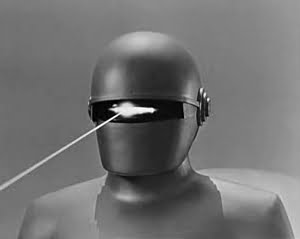 GorT is an eight-foot-tall robot from the 51ˢᵗ Century who routinely time-travels to steal expensive technology from the future and return it to the past for retroinvention. The profits from this pay all the Gormogons' bills, including subsidizing this website. Some of the products he has introduced from the future include oven mitts, the Guinness widget, Oxy-Clean, and Dr. Pepper. Due to his immense cybernetic brain, GorT is able to produce a post in 0.023 seconds and research it in even less time. Only 'Puter spends less time on research. GorT speaks entirely in zeros and ones, but occasionally throws in a ڭ to annoy the Volgi. He is a massive proponent of science, technology, and energy development, and enjoys nothing more than taking the Czar's more interesting scientific theories, going into the past, publishing them as his own, and then returning to take credit for them. He is the only Gormogon who is capable of doing math. Possessed of incredible strength, he understands the awesome responsibility that follows and only uses it to hurt people.