Santorum: Nobody the NYT Knows Voted For Him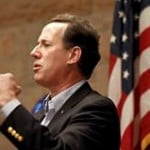 It is astonishing that anyone can possibly take the New York Times's political reporting seriously anymore. It is beyond satire.
Check out an early story about the Rick Santorum stampede. First, the only picture they could find of him? A shot of him brushing glitter off his coat after being hit by a protestor. Because, the NYT wants to remind you, they have decided that Rick Santorum HATES gay people. And there is no nicer picture of him. So here is a photo of him being hit with glitter. By a protestor. You can figure out why. Hater.
Then, check out the opening two paragraphs:
His candidacy all but dismissed just days ago, Rick Santorum held a strong lead in the early returns from the Minnesota caucuses late Tuesday and won a nonbinding primary in Missouri.

With his unexpected victory near, Mr. Santorum was suddenly presenting new competition to Newt Gingrich as the chief alternative to Mitt Romney, the front-runner. Mr. Santorum's showing also provided another sign of the continued unwillingness of some of the party's grass roots to rally behind Mr. Romney.
Anyone who has been using more than two digits of their IQ to follow the news lately is well-aware that Rick Santorum's campaign has not been dismissed by anyone sensible, and that he would almost certainly win Missouri and Minnesota. So let us rewrite the article more truthfully:
Although we here at the Times dismissed Santorum as a second declension genitive plural Latin noun, he seems to have won a couple of states. But don't worry: these elections don't really count. Heck, we already forgot about Iowa. Which is even more west than Ohio, we believe.

Anyway, we didn't expect him to win, and now Romney might have some stronger competition, especially since we like to think the Republican party is totally fractured and in shambles, unlike the massive numbers of unified Democrats who outnumber Republicans probably like 15 to 1.
Anyway, the real story is this.
You will be reading a lot in the next few days that Mitt Romney now has real competition, but that Rick Santorum lacks the political machinery to clinch the nomination. After all, Santorum has a very small organization and virtually no money to speak of. This is all true—but look at it this way: although he wins no delegates from these three primaries, Santorum has pulled in a significant number of actual votes. That's enough to get serious looks by big donors. Certainly this should be enough to push Newt Gingrich out of the picture for a while, but overall this is still Mitt Romney's show.
So the Czar agrees with estimations that, all things considered, Rick Santorum may be one of the better run campaigns that will not achieve nomination; however, the battle between Santorum and Romney may be much, much closer than early dismissals would lead you to believe. Remember, too, that conservatives are itching for a reason to bail on Romney. Newt Gingrich is kinda scary. Ron Paul is scary. Santorum was too far behind in the early polls to warrant attention—but that could change fast. And a lot of voters queuing up to vote for Mitt Romney may think twice.
The next two-to-three weeks may well be the most important in Rick Santorum's life. He will need to be 100% on his game, ready to go, and gaffe-free. Because by March, he can legitimately threaten Romney's remaining delegate count, or he can implode dramatically. Rick Santorum is, right now, a guy who literally cannot afford a single mistake.

Божію Поспѣшествующею Милостію Мы, Дима Грозный Императоръ и Самодержецъ Всероссiйскiй, цѣсарь Московскiй. The Czar was born in the steppes of Russia in 1267, and was cheated out of total control of all Russia upon the death of Boris Mikhailovich, who replaced Alexander Yaroslav Nevsky in 1263. However, in 1283, our Czar was passed over due to a clerical error and the rule of all Russia went to his second cousin Daniil (Даниил Александрович), whom Czar still resents. As a half-hearted apology, the Czar was awarded control over Muscovy, inconveniently located 5,000 miles away just outside Chicago. He now spends his time seething about this and writing about other stuff that bothers him.