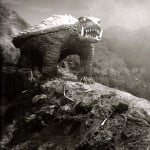 You probably heard that Russian scientists in the Antarctic drilled through the ice and reached a mysterious, under-the-ice freshwater lake not seen in 20 million years. This was an amazing effort.
You probably did not hear, of course, that a horrific monster was unleashed that ate like six of the scientists, and utterly destroy their base camp before the surviving half-dozen scientists, some horribly wounded, constructed missiles out of the camp stoves and eventually blew up the monster.
The creature, now chunks of flesh raining down on the camp, was an enormous, turtle-like creature with ability to breathe fire. Worse, scientists have now concluded that it was a female, protecting its egg clutch only days away from hatching.
Also, they expect to find new forms of chemotrophic bacteria that followed different evolutionary paths. One of the scientists has already developed a strange, plague-like symptom that is transforming his flesh into something horrible.

Божію Поспѣшествующею Милостію Мы, Дима Грозный Императоръ и Самодержецъ Всероссiйскiй, цѣсарь Московскiй. The Czar was born in the steppes of Russia in 1267, and was cheated out of total control of all Russia upon the death of Boris Mikhailovich, who replaced Alexander Yaroslav Nevsky in 1263. However, in 1283, our Czar was passed over due to a clerical error and the rule of all Russia went to his second cousin Daniil (Даниил Александрович), whom Czar still resents. As a half-hearted apology, the Czar was awarded control over Muscovy, inconveniently located 5,000 miles away just outside Chicago. He now spends his time seething about this and writing about other stuff that bothers him.