Movie Re-review: The Phantom Menace in 3D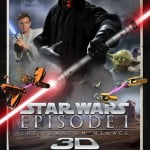 The J. clan took in the 4:00 showing of The Phantom Menace in 3D at the New Atlantis Googleplex yesterday.
Go ahead, openly mock, you know the consequences.
Why did we fork over $51.50 go see what is considered a mediocre film, especially when we have it on Blu-ray? Well, we love Star Wars, warts and all. Mrs. Dr. J., and the Lil Resident and the Lil Med Student wanted to see it on the big screen, and Dr. J. wanted to see what Lucas could do with 3D.
Now, as far as the story goes, The Phantom Menace is Dr. J.'s favorite prequel. It has the most coherent and believable plot of the three, and the best light saber duel (3-uel?). The flaws with the film, in Dr. J.'s opinion are pretty much isolated Jar Jar being too slap-stick, a couple of scatological jokes, and Dr. J. would have cast Anakin closer in age to Padme.
In other words, the flaws were in the window dressing. For all the haterade poured on Jar Jar, he was a character with potential that was executed poorly. The idea of the Pigeon English speaking native worked much better in the novelization, and were he toned down, would have made this a terrific film.
Episodes II and III are flawed in their framework. While all of the political intrigue was fascinating, what was going on in front of you was the real problem. The dialogue was horrible, Hayden Christenson was poorly cast, and the motivations and evolution of Anakin's character was really difficult to follow. You didn't buy the love story either.
As a aside, there were trailers for The Lorax, Wrath of the Titans and Spider Man in 3D. He'll be seeing the first and 3rd of those in 2D, thank you very much. Spidey swing around the city in 3D looks like crap, and he isn't paying $51.50 for 4 tickets to The Lorax.
Back to TPM in 3D. The first thing Dr. J. noticed was that the sound was cleaned up and dramatically improved from the 1999 release. You could understand everything everyone was saying. That in itself makes it worth going to see (even in 2D). Visually, there were a few subtle cut aways that were more elegant than in the original release, and Yoda being upgraded to CGI was also welcome.
The use of 3D was different than Dr. J. expected. 3D was designed to create depth into the screen. Given that this was filmed on 35mm film in 1999 and rendered into 3D, it was done very well. It was continuously present and added to the experience rather than distract from it. It worked best in scenes with characters and dialogue. It drew you into the scene and put you more there than with 2D. Its use in the podrace and space scenes was more subtle than one would expect, and that restraint is appreciated.
Dr. J. looks forward to seeing how Episodes II and III which were filmed in digital HD make the conversion to 3D. Aesthetically the films should be improved dramatically. They'll still be turds, but they'll likely be very nice 3D turds. Given the technical success with Episode I, Dr. J. expects Episodes IV-VI, also filmed on film, to be worth taking in, even if Han doesn't shoot first (he did, Dr. J. saw it when he was little…).
So, if you have $15 burning a hole in your pocket, this 3D film is worth your time, even if only to see how the technology should be used. This movie makes an effective a case for moving the cinema experience to 3D, especially because in the era when many of us have respectably sized HDTVs at home, we don't really like forking over more than the cost of a Blu-ray/DVD/Digital Copy combo pack to sit in a theatre.