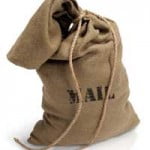 The Czar has sure been busy lately, and has fallen a bit behind in his mail. First up chronologically is DT, who lined up six cesium atoms to spell out the following email:
Your Mustachioed Magnificence,

I just read about the Carrington Event at Watt's place, and it sounds quite scary. Which castle experiment was this again?

Your Faithful Myrmidon Wrangler,

D.T.
What DT is describing is a solar flare, which occurs from time to time. A solar flare is a kind of like a burp on the sun. The sun is a star, as you know, and if you think about it, a star is nothing more than a monstrous nuclear explosion held in place by its own gravity. As an explosion, it tries to blow itself outward, but its massive gravity holds the exploding material in place. Stars also generate a massive magnetic field, and every so often the twisty, wiggly, shimmery magnetic field jitters itself in just the right way that it can pull off a piece of the explosion and send it flying through space.
Once in a while, the earth is in the way of that explosion and we get hit by it. As you know, the earth has a powerful magnetic field of its own, and this diverts the incoming blast pretty well. The worst we usually get out of it is a spectacular light show in the form of auroras. We had a couple of solar flares hit us recently, and many folks around the world reported auroras.
Unfortunately, a solar flare can also knock out satellite communications. This also happened recently. And in 1989, a solar flare appears to be responsible for having knocked out power across a big section of Canada.
But the DHS threat, like worrying about terrorist acts caused by Christians and returning war vets and Tea Party members, is a bit misguided. Yes, a heavy solar flare hitting earth just the right way could act like an electromagnetic pulse (EMP), shocking electronic components across a wide geographic area. The DHS, naturally, assumes that Americans will turn into hordes of looting, pillaging, cannibals as a result. What the DHS fails to remember is that this didn't happen in Canada in 1989, where power was restored in a couple of days, nor did it happen in New Orleans after Hurricane Katrina (despite media exaggerations), nor in New York on September 11, 2001. People got together to help each other, more importantly without government assistance.
The Czar is no goofball. He knows that a solar flare could be particularly bad. But he also knows that the earth gets hit all the time, and we generally deal with it. The sun is actively monitored by a range of satellites. Because light from a solar flare travels faster than ejected solar matter, we have a day or two of warning to shut down or protect critical systems like we did at least twice in January, 2012.
DHS should be planning for every contigency, and solar flares happen periodically. But let us not go around the hysterical bend lest people think the DHS is making, shall we say, another funding grab.
Meanwhile, Borepatch reminds the Czar that while the Republican candidates thumped their pectorals about shutting down the EPA during the debates, they pretty much no longer do with the exception of Ron Paul and a passing comment at CPAC from Newt Gingrich—and even they have moved on to more interesting topics.
Borepatch is correct, of course. The Czar concedes that the EPA will probably not be challenged by any of the Republican candidates if elected.

Божію Поспѣшествующею Милостію Мы, Дима Грозный Императоръ и Самодержецъ Всероссiйскiй, цѣсарь Московскiй. The Czar was born in the steppes of Russia in 1267, and was cheated out of total control of all Russia upon the death of Boris Mikhailovich, who replaced Alexander Yaroslav Nevsky in 1263. However, in 1283, our Czar was passed over due to a clerical error and the rule of all Russia went to his second cousin Daniil (Даниил Александрович), whom Czar still resents. As a half-hearted apology, the Czar was awarded control over Muscovy, inconveniently located 5,000 miles away just outside Chicago. He now spends his time seething about this and writing about other stuff that bothers him.