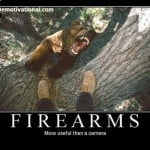 The Left should just admit they don't know anything about firearms. Those of us on the Right who embrace firearms know this already—one of the safest bets in all of gambling is linking an anti-gun crusader to ignorance about firearms. One always seems to go with the other.
For a pristinely recent example, check out Illinois State Representative Kelly Cassidy who wants Illinois residents, currently ranked 50th in common sense firearms laws, to pay a hefty tax on ammunition.
Of course, revenues collected from this tax will go to fund something called the High Crime Trauma Center Grant Fund, which is an organization that does not exist. That's fine, because in classic Progressive fashion, the revenues collected from the ammunition tax will go to pay the salaries of those hired to staff the Grant Fund organization. Just like Illinois toll booths, in which nearly all the money collected goes to pay the people who collect your tolls. Basically, it's just government job creation.
But let us get back to firearm ignorance. Why can we prove Rep. Kelly Cassidy doesn't know much about firearms? Because only a fraction of firearm owners actually buy ammunition off the shelf, especially in Illinois.
The people who really shoot a lot own their own reloading equipment. You can go to Bass Pro Shops or Cabela's or your vendor of choice, buy a big can of black powder and a bag of parts. You then take your spent shell casings, place the stuff into various parts of a machine, and make your own ammunition. Depending on how much you shoot, this can save you hundreds to thousands of dollars on ammunition, since shell casings are the most expensive part and can be reused again and again. Hey, it's classic recycling.
But maybe you do not own a reloader. Maybe, like the Czar, you purchase your ammunition at a range. Guess what they do? That's right—they reload! You know the huge piles of brass casings on the range floor? That all gets swept up at the end of the day, the various calibers are sorted out, and the range reloads them to save shooters money.
So all in all, not as much ammunition is sold as Cassidy thinks. If she knew anything about firearms, she would realize that most of the "ammunition" she would tax is in fact going to bypass the requirement.
Worse, her classic liberal ignorance also shows in the wording of the proposal. This 2% sales tax would be applied to all law-abiding firearm owners to provide funding for hospitals to treat indigents involved in violent crime. How about that? The gun owners weren't involved in the violent crimes! Why should they pay?
How about this: how about Rep. Cassidy and her other coffee drinking pals pay a 2% coffee tax to pay for people injured by drunk drivers? You know, as long as we're now taxing non sequiturs and all.
Fortunately, the Illinois State Rifle Association—who has developed into a powerful force in legislation, is already rejecting this nonsense proposal. And with Illinois' decreasing tolerance for anti-gun legislation, this proposal is not likely to get enough support to become enacted. That it should even be proposed is worrisome enough, though.

Божію Поспѣшествующею Милостію Мы, Дима Грозный Императоръ и Самодержецъ Всероссiйскiй, цѣсарь Московскiй. The Czar was born in the steppes of Russia in 1267, and was cheated out of total control of all Russia upon the death of Boris Mikhailovich, who replaced Alexander Yaroslav Nevsky in 1263. However, in 1283, our Czar was passed over due to a clerical error and the rule of all Russia went to his second cousin Daniil (Даниил Александрович), whom Czar still resents. As a half-hearted apology, the Czar was awarded control over Muscovy, inconveniently located 5,000 miles away just outside Chicago. He now spends his time seething about this and writing about other stuff that bothers him.