J.A.B.: Live, From The Double-Wide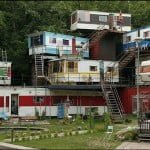 'Puter's been remiss in responding to his email. His fellow Gormogons ascribe his delinquent tendencies to a combination of illiteracy and procrastination. They're correct.
'Puter's been meaning to give frequent correspondent J.A.B. a little more face time around here, as she's (1) a lot of fun and (2) has a Mid-South way with words.
Here's a selection of her recent missives, slightly dated, though in no manner her fault. It's simply that 'Puter was busy organizing Czar's collection of belly button lint, collected from his decapitation victims. 'Puter also spent much of the last month creating a life sized creche from his ear wax, so next Christmas should totally be awesome.
J.A.B. on HHS mandates:
Well, howdy there, Mr. Puter, you abrasive ass!!!

I've been waiting for somebody to point out the bald-faced hypocrisy of the so-called "pro-choice" crowd.

They say they're for the right-to-choose, BUT ONLY if you choose the way they say is right. Er, where's the big-fat choice in that, huh?

By their standards, we American women-folk fall into two categories:

1. Dumb sluts who lack either:

a. the gumption to plan ahead
b. or the spine to say "Sorry, honey, not tonight"

2. Frigid prudes who fear sex.

Weird, though, that they cannot imagine the same power of the state turned against their favored cause.

Yours from the Doublewide,

JAB, also an abrasive ass

As Shakespeare wrote in Much Ado About Nothing: "Do not forget, sir, that I am an ass."
Man, that's how to write a salutation. The only thing missing is an "eleventy" for the younger ladies. And the Shakespeare quote? Say what you will about the South, but I've always found them to be educational sandbaggers. That is, Southerns enjoy letting Northeasterners think they're dumb hicks because they talk funny and choose to live in small towns. Then, when the Northeasterners are busy underestimating them, the Southerners eat the Northeasterners' lunches.
It's happened to 'Puter, he's ashamed to say, though just once ('Puter learns from his errors), and 'Puter's watched it happen on countless occasions in business. Most recently, a female New York City Jewish lawyer of about 'Puter's vintage made this very category error concerning a Fredericksburg, Virginia Protestant lawyer of about 'Puter's vintage. And the woman from Fredericksburg ran the table on the woman from New York, because the woman from New York thought her counterparty was a backwards, uneducated moron who talked like trailer trash. It's fascinating to watch from the outside a third party realize she's been bested by someone she considered beneath her dawn on the person doing the underestimation. You can see all the stages of grief in a five minute span.
Here's some more of J.A.B.'s home cooking for your delectation:
And another thing….

The government has made and still makes all sorts of concessions to religious peculiarities in this country. Quakers have been exempted from military service since our country's founding. Hasidic Jews in certain areas of NYC even get public funding for their schools. Muslims in prisons get pork-free meals. The Amish, the Czar's favorites, gad about the country-side in horse-drawn buggies lacking proper turn signals and brake lights.

But, no, the mere idea that private employers should be free to refrain from subsidizing birth control…well that, sir, is just beyond crazy.

JAB, an ignorant slut
Good points, all, J.A.B. Except for the ignorant slut part, because thou art neither, though we know it's just an act you put on to keep us Northeasterners from getting wise. Keep writing in. And, to make amends for 'Puter's unacceptable delay in responding her, 'Puter's sending J.A.B. via roc his creche's life-sized ear wax Caspar for conspicuous display in her front yard this coming Advent/Whatever The Prods Call Pre-Christmas Season. Enjoy it, J.A.B. You've earned it.
For the rest of you who aren't writing to 'Puter, or whichever other Gormogon you pretend is your favorite so as not to hurt all the others' feelings, get cracking. 'Puter loves to get feedback, positive and negative, regarding his postings. It's the only way 'Puter gets better at this. If your commentary's really good, you, too, can share in the accolades and swag we Gormogons bestow on our loyal minions.
Just ask J.A.B., @mbernadettee, @fwoodbridge, @greatgrace84, @blaknsam, @jedmo1996, the Holy Roman Emperor (our spiritual advisor) and others to countless to name here. Follow us on Twitter, too, as there's tons more hijinx taking place there. It also affords us a more informal space to interact with our minions.
Come for the tomfoolery, stay for the trenchant analysis. More succincter: "Try us. You'll like us."

Always right, unless he isn't, the infallible Ghettoputer F. X. Gormogons claims to be an in-law of the Volgi, although no one really believes this.
'Puter carefully follows economic and financial trends, legal affairs, and serves as the Gormogons' financial and legal advisor. He successfully defended us against a lawsuit from a liquor distributor worth hundreds of thousands of dollars in unpaid deliveries of bootleg shandies.
The Geep has an IQ so high it is untestable and attempts to measure it have resulted in dangerously unstable results as well as injuries to researchers. Coincidentally, he publishes intelligence tests as a side gig.
His sarcasm is so highly developed it borders on the psychic, and he is often able to insult a person even before meeting them. 'Puter enjoys hunting small game with 000 slugs and punt guns, correcting homilies in real time at Mass, and undermining unions. 'Puter likes to wear a hockey mask and carry an axe into public campgrounds, where he bursts into people's tents and screams. As you might expect, he has been shot several times but remains completely undeterred.
He assures us that his obsessive fawning over news stories involving women teachers sleeping with young students is not Freudian in any way, although he admits something similar once happened to him. Uniquely, 'Puter is unable to speak, read, or write Russian, but he is able to sing it fluently.
Geep joined the order in the mid-1980s. He arrived at the Castle door with dozens of steamer trunks and an inarticulate hissing creature of astonishingly low intelligence he calls "Sleestak." Ghettoputer appears to make his wishes known to Sleestak, although no one is sure whether this is the result of complex sign language, expert body posture reading, or simply beating Sleestak with a rubber mallet.
'Puter suggests the Czar suck it.