The Infinity JX – No Federal Bailout Required…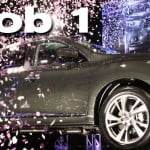 The first 2013 Infinity JX rolled off the Smyrna, Tennessee assembly line yesterday. The SUV is the first luxury vehicle to be produced in Tennessee, where the North American headquarters of Nissan is headquartered.
Tennessee is a foreign car manufacturing hub with both Nissan and Volkswagen having factories in the state due to employee friendly right-to-work laws (Boeing, can you hear me?). That and some of those sweetheart relocation deals that the Czar has little problem with, and Operative MC gets his knickers in a knot about. Nissan's relocation has created Tennessee jobs, as opposed to GM's daliances causing employment to, in aggregate, decline.
By way of a parenthetical, there is also a formerly Saturn plant in Spring Hill now owned by GM. Back in 2009, for purely political reasons, the GM plant was passed over for an Orion, Michigan plant to build compact cars, resulting in 2000 layoffs. The Spring Hill plant has since increased capacity and reopened to the tune of 1700 jobs Bringing the net jobs saved, to -300. The local UAW chief credits the auto bailout for the reopening. No comment on whether he credits the President with the 300 remaining missing jobs.
Which brings Dr. J. to the point. Nissan is building cars people want and that don't require a $10,000 tax credit to sell. They are doing so in both a consumer and employee friendly manner, and without requiring a big bailout.
Photo credit: Dr. J.'s neighbor.