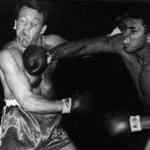 Remember boxing great Cassius Clay?
Dr. J. does.
He often used a technique called the 'Rope-a-Dope' where he was able to sustain blow after blow from his opponent, and when his opponent was sufficiently worn out, Mr. Clay would kick into high gear and pound the crap out of his opponent. The key to victory was that his opponent wasn't ready for what was in store for him due to being lulled into a sense of complacency.
Gallup released its annual 'State of the states' poll. Basically this the cumulative tracking poll data from the last year. What it shows is that President Obama is down since 2010 by 3% amongst people who answer the telephone in the various states. Only 10 states and the District view him favorably, while 40 states do not.

This is not a poll of a state-by-state proportionally representative poll of likely voters stratified by state party registration, with the question being asked, "If you were going to vote today for Obama, the Republican nominee, who would you vote for today.
Despite this, the Washington Examiner, transmogrified the data into a, 'If the election were held today…" map at the 270toWin.com website where you, too, can play electoral fantasy football….

So one must be circumspect. These data basically represent the idea of the election as a referendum on President Obama, or a vote of no confidence, if you will. This is not in any way, shape or form, a predictor of a blow out. As such the Republican candidates MUST NOT BECOME COMPLACENT.
Because it doesn't take into account the current slate of Republican candidates with their positives (Mitt's deep pockets, Newt's intellect, Rick's decency and conservative bonafides, and Ron's belief in small government) or their negatives (Mitt's mushy moderateness, Newt's newtyness, and Rick's lack of funds or national stature, Ron's foreign policy). So, Mitt, Newt, Rick and even Ron have a lot of, as we in the medical business like to say, service recovery to do.
In other words, this map represents, at best, a best case scenario where voters are motivated sufficently to vote based on their approval of Obama or not, and at worst, GOP electoral fantasy pr0n.
Unfortunately, elections aren't won when the populace is simply voting against someone. Even in the 2010 congressional primaries and elections, voters were motivated to vote for a candidate most of the time.
The Republican candidates MUST evolve by Super Tuesday into folks that (in addition to Jen Rubin and Ann Coulter) primary voters are voting FOR, rather than being an exercise in picking the best turd in the punch bowl.