Catholics Are Right: This Is A Serious Problem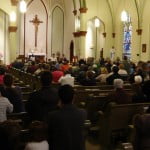 The Czar is already hearing that large (even massive) Catholic organizations across America are rallying for a major fight against the HHS letter that forces Catholic institutions hiring secular employees to cover abortion (through day-after pills), contraceptives, and a host of other things that Catholics must oppose on religious grounds. Fireworks will be starting this week in a massive awareness campaign.
Two things are resulting from this, nationally: a stunning lack of understanding from people as to why this is such a big deal, and an amazing amount of support from non-Catholics. The latter is not really all that surprising, but the widespread nature of it (Jewish groups, Mormons, Lutherans, et al.) is unexpected.
Most of the former group, who cannot fathom the issue here, tends to latch onto one of the following fallacies:
Look, it's the law, and you gotta obey it. Catholic-based employers obey all sorts of laws without a problem: tax collection, OSHA requirements, ADA, and more. This is another business regulation; if you don't like it, get out of the business.
Catholics have no right to impose their beliefs on non-Catholics. This is, not surprisingly, the ACLU's stated position. Therefore, they should obey the law to the letter.
Where does this end? Okay, so Catholics don't want to obey this law for political reasons. Does this then mean that a conservative think-tank doesn't have to obey the same law for the same reason? Or a Democratic or liberal-based organization doesn't have to obey a law about paying property tax on a building they own? Why should Catholics get an exemption?
All three fallacies revolve around the same misunderstanding: this isn't a simple political tantrum; abortion, to even the most nominal Catholic, is murder. The law is forcing Catholic organizations to compensate individuals for committing murder, which is of course a legitimate objection under the First Amendment.
The HHS letter is requiring Catholics, via the First Amendment, to violate a higher law. The first objection does not apply, because standard business regulations have never asked employers to knowingly violate any law. Second, the ACLU objection falls apart because, they may have noticed, indentured servitude and slavery have been outlawed: no one is required to work for an employer who opposes them ideologically. On the other hand, the Catholic-based enterprise has no recourse under this law to opt out. The employee has the civil liberty they need to opt out; the employer does not. The third objection fails because this is not a political disagreement: it is a specific and fundamentally religious violation.
Ghettoputer has an ongoing and quite successful analogy that always seems to work. Guess what? It works here, too: imagine if the government required all employers to arm their employees with a handgun. Imagine that was in the HHS letter, under the idea that by so arming most Americans, they would cut down on deaths and injuries resulting from violent crimes. Imagine the hue and cry that would bellow out of the Left; you now get an idea why Catholics must, by definition (as their local churches are reminding parishoners), oppose this law.
This is a significant gamble for the Obama administration, who very recently assured America they will not back down on this issue. Catholics were essential to his election in 2008; and by and large, few Catholic priests offer much coercion to vote for Democrats. But this one issue has become a lightning rod for the Church, and priests are openly advocating their flocks to rethink their support of the President. Indeed, by the catechism itself, Roman Catholics are compelled to vote Republican at the federal level.
In the Ted Kennedy years up and into the Nancy Pelosi era, Catholics knowingly looked the other way when many of their friends and fellows voted for pro-choice Democrats. As one spokesperson for a gigantic Catholic employer said on the radio this evening, this has to change everything.
Author Tim Groseclose predicts that Obama will be forced to back down on this issue as a shift in Catholic voting will ensure a Republican victory this fall. So far, the administration is vociferously insisting they will not back down, and despite Catholics pointing out they were promised otherwise in a series of assurances from the President, the message is clear: go ████ yourselves.
Gonna be hard to come back from this one, especially so late in an election year. And, more to the point, it will be very difficult for the GOP to ignore this issue in the next few months. Of course, the Obama administration could suddenly at the eleventh hour grant a waiver and take all the credit for it against "typical Republican obstructionism." But even the most squishy Republican candidate will find it hard to resist exposing this as pure anti-religious pomposity: a series of quotes from Jay Carney insisting it is the law, and Catholics do not matter, and you have an incredibly embarrassing television ad all written by the President himself.
And you might see it running in a few days.

Божію Поспѣшествующею Милостію Мы, Дима Грозный Императоръ и Самодержецъ Всероссiйскiй, цѣсарь Московскiй. The Czar was born in the steppes of Russia in 1267, and was cheated out of total control of all Russia upon the death of Boris Mikhailovich, who replaced Alexander Yaroslav Nevsky in 1263. However, in 1283, our Czar was passed over due to a clerical error and the rule of all Russia went to his second cousin Daniil (Даниил Александрович), whom Czar still resents. As a half-hearted apology, the Czar was awarded control over Muscovy, inconveniently located 5,000 miles away just outside Chicago. He now spends his time seething about this and writing about other stuff that bothers him.