Who is smarter, a Hollywood actress or a wee tot?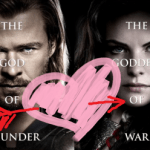 You may recall the Lil Medstudent and Dr. J. were reading Norse mythology this summer. Ragnarokk ended the tale of the Norse Gods with a neat little bow. He insisted on seeing the picture of Odin riding into Fenris's mouth over and over again. Since school started up, he has spent his time checking out books about our armed forces, modern and ancient weaponry, and this week an illustrated guide to the Civil War. We're also getting ready to tackle Greek mythology as well.
Dr. J. brings this up because he saw this news item. Jaimie Alexander, the raven haired beauty who was cast as the historically golden haired goddess Sif (who, his a brunette in the Marvel mythos) in Thor, intimated in an MTV interview that there may be sparks between her character and Thor in the 2013 film Thor 2.
So, Dr. J. went to the local expert, the Lil Med Student, for his opinion on the matter. He looked at Dr. J. and said, "Of course, daddy, Thor and Sif are married in real life."