What's inside Pandora's Box? A baby, that's what!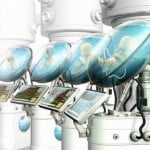 O wonder!
How many goodly creatures are there here! How beauteous mankind is!
O brave new world! That has such people in it!
Tempest Act V, Scene i
This post was inspired, in part by an email sent by Operative SMC who has been on deep cover assignment with the Jim Beam Distillery:
Dr. J,
Happy new year! I haven't forgotten about you guys, but have been busy. Biospace has a rather comical, because the person is serious, article this month that just shows the absurdities that arise when the anti-population, non-feminine feminism (sometimes termed militant feminism, or deserves a boot to the gut feminism) and free time (the need to publish and do so in such a way that catches headlines) all cross in academia. For the Brits sake I hope this dope isn't at a public university, but in England I'm pretty sure every body is somehow being paid by the gov.
I'm just surprised this didn't come out of one of our many fine institutions.
Best, SMC
Thanks for writing in SMC. The timing of this article is perfect, because it allows Dr. J. to write a pro-life post on the anniversary of Roe v. Wade.
For our readers who love primary documents, the original article sited at Biospace was published in the Cambridge Quarterly of Healthcare Ethics.
The author, Anna Smajdor, has her doctorate in Medical Ethics from Imperial College and is a lecturer at East Anglia University in the UK. Yes, that East Anglia.
She spends the better part of fourteen pages (in the form of a rebuttal to another article in the same journal, which in itself is a buttal to a prior article written by her) making the case that pregnancy because of the biological and social burdens it imposes on mothers is a barrier to true equality of men and women. If one accepts these suppositions, ectogenesis (exogenesis might be a better term), of human life, therefore, should be a research priority, as it will liberate women from the yoke of biology. After spending a great deal of time arguing against her opponent's case, she ultimately concludes:
There is a fundamental and inexorable conflict between the demands of gestation and childbirth and the social values we share as human beings: independence, equality of opportunity, autonomy, education, and career and relationship fulfillment. When women achieve greater power and choice in their societies, they have fewer children and have them later in life. Or they have none. But if our species is to survive, children must be born.
Currently women assume all the risks involved in reproduction, as well as all its burdens. Improvements in maternal/fetal medicine will not solve the problem.Indeed, they can compound it. Developments in fetal surgery, in which fetuses are operated on through the mother's abdomen; increased prenatal testing and diagnosis; and discoveries about the effects of mothers' behavior on the uterine environment all contribute to the vast pressure and constraint to which pregnant women, and potentially pregnant women, are subjected.
Changes to financial and social structures may improve things marginally, but a better solution needs to be found. Either we view women as baby carriers who must subjugate their other interests to the well-being of their children or we acknowledge that our social values and level of medical expertise are no longer compatible with ''natural'' reproduction.
CQHE 21, 101-102.
Or to put it simply, she manages to get 14 pages out of 'it's not fair that women have to make choices about when or if they are to have children and how to balance that with their careers, and to top it off, they might even die for their trouble!'
Her solution is develop artificial wombs because then, and only then you have true equality. She even argues that if you can live in world A which is our world, or world B which is a world where people have true equality because you can grow your baby in a tank with no downside to mom, socially, physically or economically, it would be a no brainer to choose side B. Right? Wrong.
First, let us go to science fiction writers, which are bioethicists whose works actually get read by millions. Four come to mind.
First is Aldous Huxley, who in Brave New World, presented us a horrific controlled society where children are not only grown in tanks, but 'poisoned' from a perfect Alpha template down to 'Beta's', "Gamma's," "Delta's" and grunt like "Epsilon's" with the rationalization that this was necessary because a society of all Alphas would result in out and out war because no one would want to take out the trash. Therefore there have to be a balance of different tiers of society, and that the Alpha's would know how to strike that balance with a combination of social engineering, drugging and liberalized promiscuity, in other words, treat the lower members of society in a Pavlovian method.
Second is Frank Herbert. In his Dune Series (SPOILERS TO FOLLOW), the villanous Tleilaxu society are religious zealots who have deemed women as less than human and sexual reproduction unclean, so Tleilaxu women were 'converted' into bio-reactors called Axlotl tanks. These Axlotl tanks were not used for in vitro sexual reproduction, but rather for cloning followed by mind transference, resulting in 'immortality.' All sorts of mischief came about because of this, including a revolt of Tleilaxu women who resented their subjugation, and a lack of respect for life on the part of the Tleilaxu, because they always had a 'back-up' body. (END SPOILERS)
Third is comic writer, John Byrne, whose version of Superman's home planet Krypton was also a Brave New World of sorts. All life was created via cloning in birthing matrixes as Kryptonians eschewed physical contact. We all know how Krypton ended, their own progressive hubris that they knew better blinded them to Jor-El's entreaties that the world was going to blow up.
Fourth, of course is our friend George Lucas, who had his hand in a few good movies in the 1970s and 1980s (THX-1138, American Graffiti, Star Wars, Empire Strikes back and Raiders of the Lost Ark) and other than make a lot of money, hasn't done much, artistically, since. Now of course, you know Dr. J. is talking about the Clone Wars. The 'Bad Guys' had a massive robot army do their killing for them, so the 'Good Guys' create a vast Clone Army programmed to be a slave society to the Republic and die on their behalf. The message here is that these artificially created lives, because they are preemptively modified (by rapid aging and enhanced obedience) are less human than free humans.
In summary, the problem that Dr. Smajdor has is her own selfishness. Her thesis, that natural gestation should be replaced with artificial gestation because it would enhance human freedom and equality between the sexes clearly stems from a warped perception of reality. Equality and for lack of a better word, 'identicality' are not the same thing and she wants homogeneous 'identicality' that transcends even biology.
It is a fact that men and women are clearly different at the genetic level, biochemical level, cellular level, and anatomic level. These differences do not make men or women superior to each other, but clearly belie a critical interdependence necessary for successful thriving and survival of the species. Even the most primitive and patriarchal societies in history have had fertility cults and a respect for women and motherhood because even the most primitive patriarch indeed had a mother. Dr. J. believes that routine utilization of artificial wombs would further degrade our respect for the sanctity of human life. As he said before, once one has artificial wombs, who is to say that one won't create an anencephalic clone for every individual, such that he has matched replacement organs, or that one won't selectively enhance, degrade, or destroy individual developing individuals to suit the greater good of the utopian society.