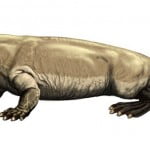 Secret Gormogon Operative ERC, who hasn't written in for a while, sent the Czar a single letter: a lower-case b. This of course translates to:
Your Czarness:

I am well aware that the the vestigial legs of whales and other cetaceans indicate that they had terrestrial or, at least amphibian ancestors, I doubt that any whales walked on land, although considering the vast pools of knowledge erased from the records by you and your colleagues, I could well be wrong.

Respectfully,

erc
Umm. Yeah. No "whales" walked on land. And the Czar, in an effort to be clever, could not even come up with a wisecrack.
On the one hand, the closest we get is ambulocetus, who looks like a cross between a dog, a cat, and an otter. He is, however, very much related to the whale family as demonstrated by his teeth and ear bones (the peculiar nature of which are unique to the cetacean family). He also is perhaps the last cetacean who spent time on land; later descendants quickly show development of flippers, and migration of the nostrils up to the top of the head.
This guy was definitely in and out of the water, but yes—it is a bit of a stretch to call him a whale. The first whale whale was protocetus, who definitely did not walk on land.
Ironically, ambulocetus means "walking whale."
On the other hand, most of the vast pools of knowledge we erased were due largely to error. You put a thing down, you think you know where it is, and then pow. Gone. No recollection of where you put it. It gets worse with age.
We'll keep looking, though.

Божію Поспѣшествующею Милостію Мы, Дима Грозный Императоръ и Самодержецъ Всероссiйскiй, цѣсарь Московскiй. The Czar was born in the steppes of Russia in 1267, and was cheated out of total control of all Russia upon the death of Boris Mikhailovich, who replaced Alexander Yaroslav Nevsky in 1263. However, in 1283, our Czar was passed over due to a clerical error and the rule of all Russia went to his second cousin Daniil (Даниил Александрович), whom Czar still resents. As a half-hearted apology, the Czar was awarded control over Muscovy, inconveniently located 5,000 miles away just outside Chicago. He now spends his time seething about this and writing about other stuff that bothers him.