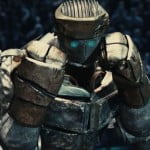 Amazed writes in:
re: Your post of 1/29/12 about seeing Real Steel.

Answer: You're welcome. My share of the $18.3 million dollar subsidy the gazillionaire producers got in taxpayer money for filming Real Steel for 2 weeks in my old home town of Mason, MI, is $4.26. And I can't even get a rebate on the movie ticket, let alone be able to claim them as dependents. Now if I could claim Hugh Jackman as a dependent it might be worth it…………

http://www.michigancapitolconfidential.com/15817

(Bastards come in all parties)

Anyway, you're welcome.
Dear Amazed,
This might surprise you, but the Czar does not take your side on this one. It is cool that you knew some of the locations used in the movie; actually, the Czar is more impressed that our reach extends so far that we have fans originally from Mason, Michigan! Welcome.
But to the Czar's point, he is unsympathetic. The Czar has been inconvenienced, taxed, rerouted, and once even prevented from walking down his own street by the filming of dozens of Hollywood movies in and around the Chicago area. And these are very likely movies you saw and liked, so you're welcome (although, to be frank, one was a Larry the Cable Guy movie, so we apologize). The Czar would be out a lot more than $4.26 for the inconveniences of all these films, which got massive tax breaks to film here.
The counterargument is that film subsidies are an opportunity cost: you pay a little bit in tax breaks for Hollywood, but you theoretically gain that back not just from the largely freeloading extras and film crew, but there is a long-standing Hollywood tradition of using local businesses to furnish and install props, supply catering, use of home exteriors, and so on. All that money stays in your community. And does tourism add dollars? Sometimes: a movie can increase tourism or lose a community money—but that is the nature of investment risk.
Did the State of Michigan turn a profit on their $18.3 million investment? Probably not yet. Probably not even close. But your links indicate that this was not the only film shot on location in Michigan; those were probably not as costly to taxpayers, and were far more likely to turn a profit (Iron Man 3, anyone?). The more films that do film in Michigan, the more likely taxpayers will see that money return.
Look at it as opportunity cost, aggregated over all the movies that shoot there, and suddenly maybe you're out only $2. In five years, probably less than that. The reason governments keep giving tax breaks to film studios is because ultimately this is profitable. Look at Vancouver, which has the most generous policies. When the City of Chicago briefly toyed with ending these breaks, they discovered to their horror that people stopped filming movies there. And a real loss was recognized!
So the Czar begs your forgiveness, but thinks that a lot more financial analysis needs to be done before Michiganders go berserk over $4.26. You might be right, of course—it is your money—but long-term it tends to work in your favor.

Божію Поспѣшествующею Милостію Мы, Дима Грозный Императоръ и Самодержецъ Всероссiйскiй, цѣсарь Московскiй. The Czar was born in the steppes of Russia in 1267, and was cheated out of total control of all Russia upon the death of Boris Mikhailovich, who replaced Alexander Yaroslav Nevsky in 1263. However, in 1283, our Czar was passed over due to a clerical error and the rule of all Russia went to his second cousin Daniil (Даниил Александрович), whom Czar still resents. As a half-hearted apology, the Czar was awarded control over Muscovy, inconveniently located 5,000 miles away just outside Chicago. He now spends his time seething about this and writing about other stuff that bothers him.