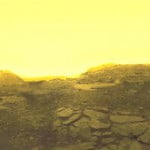 The Czar has already received questions about an extraordinary claim that there are signs of life on Venus. Specifically, a Russian scientist says he has photographic evidence of a disk, a black "flap," and a scorpion-like creature.
The scientist is an idiot.
Three things you should know. The first is that Venus is hotter than Mercury. Venus is so hot, in fact, that the rocks on its surface glow cherry red, like coals in a fireplace. At night, which is considerably long on Venus, the ground glows pinkish red from the heat; you could read by the pink light. Venus also has an incredibly dense atmosphere, so much so that an aluminum can would be crushed in under a second. The surface pressure on Venus is just as bad as it is at the bottom of the ocean, and the air is composed of a rich blend of lethal carbon dioxide and sulfuric acid. Anything organic basically bursts into flame or is dissolved in seconds. The atmosphere evens out the intense temperature, so that even at the extreme North Pole of Venus, the conditions are the same as they are on the equator.
Moreover, and this is a major point, the entire surface of Venus shows that it has been subjected to a massive wiping. At some point in its history—recently, too, compared to what life would need to evolve—the entire surface of the planet was paved over by lava. We still do not know what caused this, but can pretty confidently say that any disks, flaps, or scorpions would have been incinerated even if they could survive the hellish conditions earlier.
Second thing to know: this does not rule out that life could feasible exist on Venus. High, high, high up in its perpetual cloud layer, above incredibe windspeeds and lightning strikes high above the surface, there are conditions that could be tolerated by simple life forms. The acid layer is below you, the winds are calmer and quiet, and pressure is at earthlike levels. Temperatures are well within what life as we expect it can tolerate. And we already know, at least on Earth, that entire species of microscopic life can exist floating around on gusts of high-altitude wind. So yes, there is a slim chance of non-disk, non-flap, and non-scorpionid life on Venus.
The third thing to know is that you should be very wary of any Soviet-era scientist claiming anything about Venus. The Soviets, you see, viewed Venus as their baby—especially after the Americans claimed the Moon and successfully sent probes to Mars and beyond. Up until the late 1970s, the Americans never really did much with Venus, whereas the Soviets did a lot of practical research on the planet.
Over a short period of time, the Soviets viewed Venus as their private propaganda playground, and numerous ridiculous discoveries were made that proved false. Most notable of the classic Soviet nonsense schemes was the Velikovsky theory, that put forth the idea that Venus magically ejected itself from Jupiter, flew all around the Earth causing most of the Old Testament stories (plagues, parting of the Red Sea, pausing of the Sun), and caused a host of other phenomena before settling into a quiet orbit around the Sun. This goofy idea still has thousands of believers today.
Anyway, the Russians, or at least one Russian scientist, might still have a crazy obsession with Venus. Beyond that, he needs a heckuva lot more proof than his mysterious photos.

Божію Поспѣшествующею Милостію Мы, Дима Грозный Императоръ и Самодержецъ Всероссiйскiй, цѣсарь Московскiй. The Czar was born in the steppes of Russia in 1267, and was cheated out of total control of all Russia upon the death of Boris Mikhailovich, who replaced Alexander Yaroslav Nevsky in 1263. However, in 1283, our Czar was passed over due to a clerical error and the rule of all Russia went to his second cousin Daniil (Даниил Александрович), whom Czar still resents. As a half-hearted apology, the Czar was awarded control over Muscovy, inconveniently located 5,000 miles away just outside Chicago. He now spends his time seething about this and writing about other stuff that bothers him.