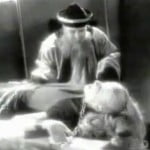 With everybody back at the Castle, the Czar thought he would stroll around and see what everyone was doing. And then, just like that, the Czar thought he would poll around about New Year's resolutions.
We wandered down to the second floor public restroom, which for some reason is 'Puter's absolute favorite. Of course, there is a reason; this is the restroom used by our many visitors, increasing the odds that a visitor will see something alarming. Some days, 'Puter doesn't even close the door to the stall. And on some days, he doesn't even use a stall.
"Geep," we bellowed. "Taking a survey for the site. Any New Year's resolutions?"
"Yeah," he called out from behind a blessedly closed door, "I'm gonna start putting a roll of Brawny in every one of these stalls. This tissue paper we put in here is useless after chili garlic sauce."
We then went over to the game room, where we found Dr. J. unplugging the Ms. Pac Man kiosk to reset the high scores so that someone other than GRT would be listed in the top 1,000. "Doc," we hollered. "Taking a survey for the site. Any New Year's resolutions?"
"Always," he said. "But why wait for New Year's? As a doctor asked about resolutions, I am duty-bound to remind you that a good resolution should start right away, not on New Year's, not next month, not even tomorrow, but today. And that resolution should include a little light-to-moderate physical exercise, a dramatic increase in fruits and vegetables, and a severe reduction on fatty and greasy foods. And for goodness sake, if you smoke, you need to quit. Studies show—" and with that, the door to the game room slammed shut as we moved toward the elevator.
We took the elevator to the top floor, crossed the windy parapet, and entered GorT's lab. "GorT," we cried. "Taking a survey for the site. Any New Year's resolutions?"
GorT turned, his great unblinking visor motionless. "I have, in fact, given this 18 milliseconds of thought," he said. "And despite all that time, I find myself unable to find the slightest imperfection in my operational abilities. Wait a moment. Wait a moment. I detect a fault in the AE35 unit. And unless the unit is replaced, it's going to fail in exactly 12 hours and 37 minutes."
"That sounds serious," spake the Czar. "But…hey, that's dialogue from 2001, isn't it?"
GorT laughed. "Yeah, it is. Now get out of here, you freaking dummy."
The Czar stomped away, crossed the windswept roof, and took the elevator down to the first floor, where we found Volgi hovering around the lobby fountain. "You are hovering," we reported.
"Yes," said the Volgi. "I can totally clear seven feet, now. What do you want?"
"Confucius," we screamed. "Taking a survey for the site. Any New Year's resolutions?"
"Mmm. No, not yet. Anyway, New Year's isn't for several weeks away."
The Czar pointed out that New Years Day was yesterday. And that the Chinese New Year is January 23rd, not at all several weeks away.
"Ah, you little idiot," laughed the Volgi. "You forget the Metonic Resonance New Years does not fall until March 13 on the common calendar, when the lunar, solar, and sidereal cycles all resynchronize. It happens every 60 years, when the 12 traditional months start again with the Five Elemental theory. See me then. I might have a little something at that time."
The Czar took the stairs from the lobby to the basement, and then walked far, far into the back. He found a light shining under the Mandarin's door. We swung it open, and found the Mandarin hunched over a piece of metal, welding it with a weird, pink light. "Mandy," we barked. "Taking a survey for the site. Any New Year's resolutions?"
Mandarin stopped welding, popped off his goggles, and looked up. "Shut up."
There you have it—almost. The Czar will reveal that in 2012, in an effort to manage his diet a little better, he has decided to eat only vegetarian animals.

Божію Поспѣшествующею Милостію Мы, Дима Грозный Императоръ и Самодержецъ Всероссiйскiй, цѣсарь Московскiй. The Czar was born in the steppes of Russia in 1267, and was cheated out of total control of all Russia upon the death of Boris Mikhailovich, who replaced Alexander Yaroslav Nevsky in 1263. However, in 1283, our Czar was passed over due to a clerical error and the rule of all Russia went to his second cousin Daniil (Даниил Александрович), whom Czar still resents. As a half-hearted apology, the Czar was awarded control over Muscovy, inconveniently located 5,000 miles away just outside Chicago. He now spends his time seething about this and writing about other stuff that bothers him.