When you have readers such as the ones we have, it does make our work a bit easier. Operative BG writes in with the following after toweling off having been slimed by the slippery lies:
Last year, President Obama spoke at George Washington University, and said, in part, "We believe, in the words of the first Republican president, Abraham Lincoln, that through government, we should do together what we cannot do as well for ourselves."

Then in his SOTU address this week, he paraphrased Lincoln again: " I believe what Republican Abraham Lincoln believed: That Government should do for people only what they cannot do better by themselves, and no more."

There's a subtle but important change in what he's saying there, which I'll get to shortly.

1) In the George Washington University speech, he doesn't say government should just do what individuals, groups, or businesses can't do at all; he's saying government should do things that it can do better. And how do you find out whether government can do better? You start a little program, then when it doesn't work as well as the private sector, you claim that it just needs more funding. And more funding. And more funding. All government programs need more funding, in the liberals' eyes (except for national defense, of course, which always needs less). Eventually, your little government program has grown to monstrous size with monstrous consequences. The KKK could not have come up with a better plan to destroy the black family than our welfare system, which was somehow supposed to be better than private charity.

2) Here's what Lincoln actually said: "The legitimate object of government is to do for a community of people whatever they need to have done, but cannot do at all, or cannot so well do, for themselves, in their separate and individual capacities. In all that the people can individually do as well for themselves, government ought not to interfere." (emphasis mine)

Note Lincoln's restrictions: First, that it has to be something we actually need to have done, and second, it has to be something that people can't do as well as government. In both speeches, Obama dispenses entirely with the first requirement, and in the SOTU address, he raises the bar for the people by requiring that they be able to do better than government, rather than just as well. In other words, as far as Obama is concerned, government should do anything that government thinks it can do just as well as individuals, whereas Lincoln said that if the people individually can do just as well by themselves, government should butt out. Lincoln was stating how government should be restricted; Obama twists what Lincoln said into a justification for more government.

It's a slippery lie, but that's one thing Obama excels at.
It is a slippery lie but here's the twist – Obama and other liberals will pass judgment as to what a person can and can't do well for themselves and what we need and don't need. This is a fundamental difference between liberals and conservatives. Conservatives truly believe in the power of the individual (or groups of individuals – in other words, companies). It is what made America great. Thanks, BG!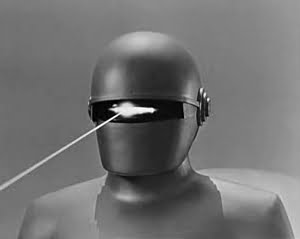 GorT is an eight-foot-tall robot from the 51ˢᵗ Century who routinely time-travels to steal expensive technology from the future and return it to the past for retroinvention. The profits from this pay all the Gormogons' bills, including subsidizing this website. Some of the products he has introduced from the future include oven mitts, the Guinness widget, Oxy-Clean, and Dr. Pepper. Due to his immense cybernetic brain, GorT is able to produce a post in 0.023 seconds and research it in even less time. Only 'Puter spends less time on research. GorT speaks entirely in zeros and ones, but occasionally throws in a ڭ to annoy the Volgi. He is a massive proponent of science, technology, and energy development, and enjoys nothing more than taking the Czar's more interesting scientific theories, going into the past, publishing them as his own, and then returning to take credit for them. He is the only Gormogon who is capable of doing math. Possessed of incredible strength, he understands the awesome responsibility that follows and only uses it to hurt people.